Ever dreamed about presenting your solution at Mobile World Congress? The GSA is looking for innovative solutions to be presented at the Galileo stand in Barcelona. The MWC is the largest mobile event in the world - every year it brings together leading mobile technology developers, manufacturers, service providers and app developers from across the globe. With over 107,000 visitors expected to attend MWC 2019, next year's event promises to be an ideal forum to showcase the latest EGNSS-based innovations.
From 25 to 28 February 2019, MWC Barcelona will host the latest cutting-edge technologies from more than 2,400 of the world's leading mobile technology companies. With a programme featuring leading visionaries and investors, the Congress is a not-to-be-missed opportunity to present and promote innovative new ideas, technologies and applications and bring them to the attention of key decision-makers.
Read this: EGNOS and Galileo – opening the door to new drone applications
Having as its goal to explore the hottest trends influencing the mobile industry, MWC Barcelona is an ideal platform to showcase and promote innovative EGNSS-based solutions and applications, for example those being developed within Horizon 2020, and show how European space research is enhancing EU industrial competitiveness and playing a pivotal role in tackling various societal challenges facing Europe. 
At MWC, you can present your EGNSS-based services and applications with the potential to improve the lives of European citizens, and bring the benefits of cutting-edge European space-based research to the attention of your peers, investors and the public at large.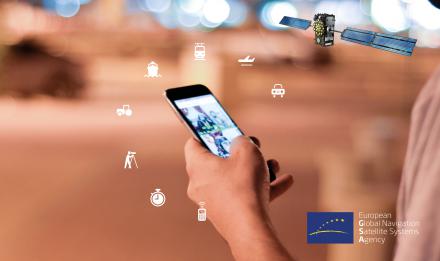 By matching ideas with opportunities and talent with available resources, MWC Barcelona helps support the European GNSS Agency (GSA) in its mission of linking space to user needs. In fact, from dual frequency chipsets to new smartphones, EGNSS was behind many of the technology announcements made during the Mobile World Congress 2018. 
Watch this: GNSS for drones and UAVs
What's more, at the 2018 MWC, the GSA showcased how Galileo-enabled drones are benefitting a range of different applications, including surveying, search and rescue and agriculture. The GSA stand at the Congress featured displays and presentations on a number of EU-funded drone projects, including selected GSA-managed H2020 projects such as Real, EASY-PV, Gauss, Geovision and Mapkite, and the Argonaut solution developed within the Barcelona ESA Business Incubation Centre.
"MWC 2018 in Barcelona was a valuable opportunity to introduce Easy-PV outcomes to a wider audience. I am sure that the other EU-funded projects involved also benefited from it. Specifically, I find that the Congress has been an excellent venue to forge partnerships, gain valuable insights and expand our professional networks. Almost one year later, I can say that some of the contacts established in Barcelona ended up as important partnerships. We are grateful to the GSA for making this happen," said Marco Nisi, Head of Integrated GNSS Solutions at Sistematica S.p.A.
Expression of Interest
Ahead of next year's MWC in Barcelona on 25-28 February 2019, the GSA is launching a call for expressions of interest among Horizon 2020, Fundamental Elements partners and other EU companies. If you have an EGNSS-based solution or product that you would like to demonstrate at MWC Barcelona, please contact the GSA at market@gsa.europa.eu. Put "Interested in showcasing our project at MWC 2019" in the subject line of your email.
This will be an unmissable opportunity to present your solutions to a large audience of potential investors and beneficiaries. Join us in Barcelona in February 2019 at MWC, where innovation is celebrated, connections are made, insights are gained, products are launched and business gets done!
For more information read the Rules and conditions and  submit the Declaration of Honour by 19th December 2018.
Media note: This feature can be republished without charge provided the European GNSS Agency (GSA) is acknowledged as the source at the top or the bottom of the story. You must request permission before you use any of the photographs on the site. If you republish, we would be grateful if you could link back to the GSA website (http://www.gsa.europa.eu).