The 'Space for Innovation in Rail' forum, to be held in Vienna, Austria on 18-19 March 2019, will be an opportunity to discuss innovation and digitalisation in the rail sector, with a special focus on GNSS applications for rail. The event, under the auspices of the Austrian Ministry of Transport, Innovation and Technology, is being jointly organised by the European GNSS Agency (GSA), Shift2rail Joint Undertaking (S2R JU), and the European Union Agency for Railways (ERA).
In recent years, the railway segment, which includes the rail industry, infrastructure managers and railway businesses, as well as the R&D ecosystem, has developed a portfolio of innovative solutions to increase the cost effectiveness and safety of rail transport, while at the same time improving passenger experience.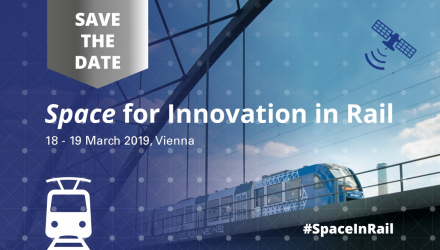 Both the GSA and Shift2Rail, a European initiative that seeks focused, market-driven research and innovation solutions for rail, are playing a key role in leading this innovative push in the rail sector and engaging with all stakeholders involved. ERA, meanwhile, is orchestrating the process from a more strategic and regulatory point of view within the framework of the European Railway Traffic Management System (ERTMS).
Read this: GSA Rail report tracks user PNT requirements
The jointly organised event, hosted by the Austrian Ministry of Transport, Innovation and Technology in Vienna, will bring together about 150 people representing Europe's rail stakeholders, including the rail users' community, the rail industry and service providers, specialised media, and policy-makers in the areas of mobility, multimodality and innovation.
GNSS on track
Following a welcome address from Norbert Hofer, Austrian Federal Minister for Transport, Innovation and Technology, discussions will touch on the key role of GNSS in innovation in rail positioning. It will also give an overview of the current state of affairs and highlight the lessons learned from GNSS adoption in various other transport segments – particularly the aviation sector.
Watch this: EGNOS and Galileo for Rail
Furthermore, the event will focus on the progress achieved so far on the implementation of the GNSS Roadmap for Rail as well as on the way forward towards the availability of a GNSS-enabled and certifiable train positioning system for the ERTMS, including the business challenges ahead. A further topic will be innovative solutions for rail-safety and signalling as well as the regulatory perspective towards GNSS adoption for rail.
We are looking forward to welcoming you in Vienna and discussing with you GNSS and the future of rail in Europe. Please register here. For more information contact: com@gsa.europa.eu.
Media note: This feature can be republished without charge provided the European GNSS Agency (GSA) is acknowledged as the source at the top or the bottom of the story. You must request permission before you use any of the photographs on the site. If you republish, we would be grateful if you could link back to the GSA website (http://www.gsa.europa.eu).