A recent report from the European GNSS Agency (GSA) highlights user needs and requirements on position, navigation and timing (PNT) for location-based service (LBS) applications. The report will help shape the discussion at the next EGNSS User Consultation Platform (UCP), to be held in Marseille on 3-4 December 2018 as part of European Space Week.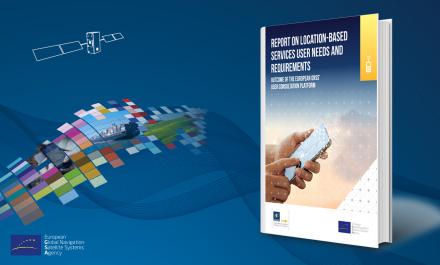 The Report on Location-Based Services User Needs and Requirements is one of a series of eight user segment-specific reports recently published by the GSA. This report aims at enhancing the understanding of the LBS market evolution, including strong points, limitations, key technological trends and main drivers related to the uptake of GNSS solutions across the various LBS applications.
GNSS-enabled solutions cover a wide range of applications that can be divided into 13 main categories according to their usage: navigation, mapping and GIS, geo-marketing and advertising, safety and emergency, enterprise applications, sports, games, health, tracking, augmented reality, social networking, infotainment and commercial.
Hybrid solutions overcoming limitations
The report notes that, despite the large penetration of GNSS in the LBS segment, its use has some limitations. These include power consumption, availability in challenging environments, indoor availability, susceptibility to multipath, interference, jamming and spoofing. These hurdles are typically overcome by employing hybrid solutions using complementary positioning technologies when necessary or by following best practices regarding the type of GNSS equipment used.
Read this: Where (exactly) are my things? Learn how Galileo empowers IoT solutions
Over recent years, a burgeoning group of new applications has emerged that requires far more stringent horizontal and vertical accuracy levels. These range from innovative safety-critical m-Health technologies, to mapping and GIS applications which are among the most demanding types of smartphones apps. Other application categories require authentication of the position to protect app users or service providers from malicious signal interference such as spoofing.
Taking all these above aspects into account, the report presents a user requirement analysis across the different GNSS-enabled or supported applications in LBS, based on performance requirements. This research will feed into discussions at the next EGNSS User Consultation Platform (UCP) in Marseille in December.
The EGNSS User Consultation Platform
The UCP is a periodic forum organised by the European Commission and the GSA, involving end users, user associations and representatives of the value chain, such as receiver and chipset manufacturers, application developers and the organisations and institutions dealing, directly and indirectly, with Galileo and EGNOS. The event is a part of the process developed at the GSA to collect user needs and requirements and take them as inputs for the provision of user-driven Galileo and EGNOS services.
And this: GNSS a key element of all-purpose, user-driven positioning solutions
The next User Consultation Platform will be held on 3-4 December, during European Space Week. The platform will consist of eight parallel panel sessions, in which users will be grouped by market segment. Of particular interest to the LBS ecosystem will be the session on the mass market.
In addition to the UCP, LBS will be featured at a number of panel discussions within the European Space Week. In particular, a special session on Interconnectivity will showcase how ubiquitous communication enhances access to the GNSS and Earth Observation information underpinning countless new consumer applications. A number of interesting speakers is already confirmed for the session, including representatives from Sigfox, CLS, Sony and AIOTI. LBS will be also at the centre of the Smart Cities session, given the key role that they play in the context of global urbanisation and smart city developments.
To join the ongoing discussion and to ensure that future European space programme evolutions meet your needs and requirements, you can take part by registering to attend European Space Week here.
Media note: This feature can be republished without charge provided the European GNSS Agency (GSA) is acknowledged as the source at the top or the bottom of the story. You must request permission before you use any of the photographs on the site. If you republish, we would be grateful if you could link back to the GSA website (http://www.gsa.europa.eu).