Intelligent transport systems – using satellite applications and other information technologies – could help resolve some of Europe's many transport challenges, from congestion to climate change, European Commission Vice President Siim Kallas told the Vienna ITS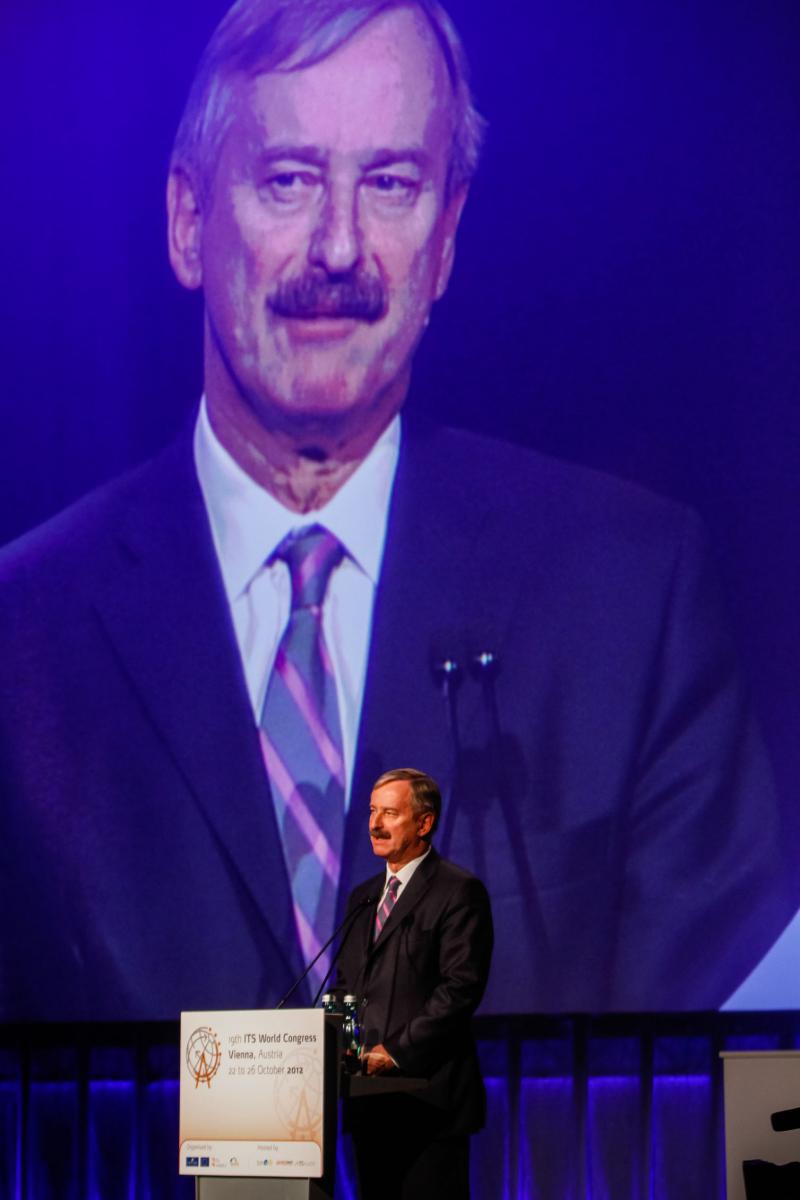 They promise cleaner, safer and more efficient European transport, and they are already coming on stream: that was the message on intelligent transport systems (ITS) that European Commission Vice-President Siim Kallas brought to the Vienna ITS World Congress on October 22.
Many of the most innovative ITS technologies are being delivered by satellite applications – from vehicle navigation systems to the eCall programme that uses satellite positioning to automatic contact emergency services after an accident, and from the tracking of dangerous goods transport to advanced driver assistance systems (ADAS). They will become even more accurate and reliable once Europe's Galileo satellite programme becomes operational in 2014. And as a key component of future transport policy, they will help influence Europe's economic competitiveness over the next few years, Kallas said.
Enables of tomorrow's transport
Technological innovation is one of the main pillars of European transport policy, and space applications are an increasing part of the mix. "Intelligent transport systems, and innovation in technology and services are key enablers for tomorrow's integrated European transport system," Kallas said. "Today's priority is to speed up and coordinate ITS deployment. For that, a close relationship with industry partners and relevant public stakeholders is essential."
The five-day Vienna ITS involved over 300 exhibitors and 10,000 participants from more than 90 countries. Kallas, who is also the EU Transport Commissioner, addressed a meeting of around 30 transport ministers at the event, and spoke at plenary session on the opening day.
Kallas said that ITS is one of the leitmotiv themes in the European Transport Roadmap to 2050, adopted by the Commission in March 2011. The Roadmap offers answers on how to deal with multiple, interlinked transport challenges like rising oil prices and persistent oil dependency, a deteriorating climate, and growing congestion. "These circumstances require transport to reshape itself. Transport has to innovate," he said. "ITS has given us the opportunity to do this in a smarter way." The Commission's ultimate aim, Kallas said, was to have a multitude of competing services that respond to the needs of users and make the transport system more resilient and more effective.
Technology to teach transport
Kallas hailed the way technology was now able to make the transport system learn: it could now cope with unexpected situations and new developments, from traffic congestion to ash clouds to security threats. "The system should be able to link, at any time, its knowledge of network events with available information from all sources of transport data for all relevant modes," he said.
Kallas said smart mobility solutions could be deployed within and across all transport, from air and road to rail and water, for all passengers and freight, and for urban, regional and long distance journeys. With that in mind, he singled out a satellite-enabled European ITS programme involving water transport: SafeSeaNet, the platform allowing rapid and efficient exchange of maritime information, uses satellite data to pinpoint all ships in and around EU waters, thus helping to keep Europe's seas clean and safe.
He appealed to business and regulators to work together to address the remaining technical, legal and organizational barriers preventing the wider deployment of ITS. "The identified issues include the availability and access to transport data; some persisting legal uncertainties related to liability or the protection of personal data; and the lack of standardized interfaces to make existing solutions interoperable," he said.
Kallas looked ahead to the Horizon 2020 EU framework for research and innovation, over the 2014-2020 period, which has proposed a €6.8 billion budget for "smart, green and integrated" transport. The proposed measures are not only expected to help curb road fatalities and reduce congestion and related economic losses, but also to cut greenhouse gas emissions, he said.
Media note: This feature can be republished without charge provided the European GNSS Agency (GSA) is acknowledged as the source at the top or the bottom of the story. You must request permission before you use any of the photographs on the site. If you do republish, we would be grateful if you could link back to the GSA website.
More information: