You spoke. We listened. The results of the GSA's 2017 Galileo User Satisfaction Survey are now available.
At the end of 2017, the European GNSS Agency (GSA)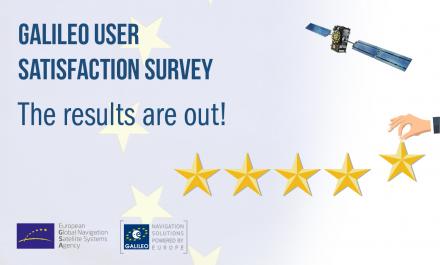 launched its Galileo User Satisfaction Survey. This dedicated survey aimed to collect a range of valuable information from users like you. From your perception of and expectations for Galileo, to specific market segment and user needs and suggestions for improving the services provided by the European GNSS Service Centre (GSC) – the survey was a unique opportunity for you to share your thoughts and ideas.
Responses from across the market
And share you did. Users of every kind responded to our survey, including end users, receiver and chipset manufacturers, system integrators, service providers, application developers, public authorities and scientific entities. Responses also came from across a wide-range of market segments, including maritime, aviation, rail and road. In total, we received over 100 answers.
Read this: Just published: First report series on User Needs and Requirements on Position, Navigation and Time
Now, the results of this effort have been processed and the main outcomes and conclusions can be read in the Galileo User Satisfaction Survey Report.
According to the report, 55% of all respondents said they were already using Galileo – an impressive figure coming just one year after the launch of Initial Services. Of these users, 89% said they were satisfied with Galileo's current level of service. Furthermore, 94% would recommend Galileo to other users.
In terms of suggestions for improving Galileo, respondents said they wanted to see improved availability of Galileo services and even better positioning accuracy. As to the GSC, the main suggestions coming from users included a need for a more enhanced website and an increase in range of available GSC products.
"These results show that Galileo is on the right track, with the market quickly adopting the service," says Aitor Alvarez Rodriguez, GNSS Service Centre Supervisor at the GSA. "The GSA and GSC are building a solid user community ready to reap the many benefits of Galileo."
Continuous dialogue
Our work doesn't stop with the survey, however. The process of giving a voice to the growing Galileo User Community and building a continuous dialogue for improving the Galileo system and its services is ongoing. This dialogue will continue at the second EGNSS User Consultation Platform at European Space Week. Held 3 -6 December in Marseille, France, here Galileo users will have the opportunity to share their experiences first-hand. 
"We really appreciate all who contributed and took the time to answer the survey," says Gian Gherardo Calini, Head of Market Development at the GSA. "Your opinion is our driver, and we will continue to listen to your ideas on how to continuously enhance our services."
Media note: This feature can be republished without charge provided the European GNSS Agency (GSA) is acknowledged as the source at the top or the bottom of the story. You must request permission before you use any of the photographs on the site. If you republish, we would be grateful if you could link back to the GSA website (http://www.gsa.europa.eu).