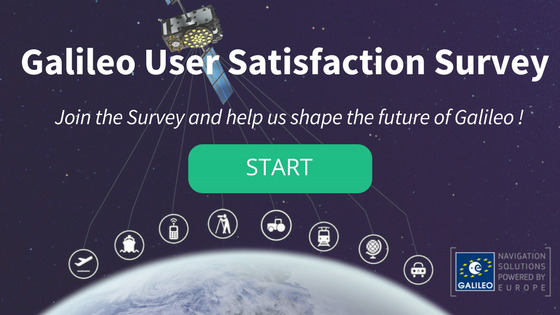 The Galileo User Satisfaction Survey aims at collecting valuable feedback from current and potential Galileo users. The main conclusions and outputs will feed into the European Global Navigation Satellite Systems Agency (GSA) and Galileo continuous quality improvement process, required for achieving the highest levels of use, performance, service and user support.
The survey is tailored to fit different categories of users and market segments and uses checkboxes to assist you with your answers. However, please take advantage of the free text areas to provide additional feedback including comments on the questionnaire itself.
Thank you in advance for taking the time to complete this survey to help us improve Galileo services, and understand how to better serve the European GNSS community.
Please, read the privacy notice concerning the processing of your personal data before filling the survey. Be aware that data collected in the survey, except personal data, may be publicly available for the improvement of the quality of the Galileo services. Data will be stored using the SurveyMonkey web service, which may constitute a transfer of personal data to a third country according to Regulation (EC) 45/2001.