As of 03/12/2021, the European GNSS Service Centre provides additional information regarding the operational status of the SAR/Galileo Service. Such communications, namely Notice Advisories to SAR/Galileo Users or NASUs, will provide up-to-date System status information that is relevant for users when using the SAR/Galileo Service.
Any planned or unplanned event affecting the provision of SAR/Galileo operational data is relayed to the Cospas-Sarsat community through Subject Indicator Types (SIT) 605 messages. The provision of this message is initiated by the Galileo Programme or the SAR/Galileo Operator (SGDSP), that relays the information via the French and/or Spanish Mission Control Centre (FMCC/SPMCC) to all Cospas-Sarsat MCCs.
Such operational communications, also referred to as ''Notice Advisories to SAR/Galileo Users or NASUs'', were previously only provided to Cospas-Sarsat but, since 03/12/2021, such information is also available at a dedicated section of the GNSS Service Centre website to improve user awareness.
With the entry into service of the SAR/Galileo Return Link Service (RLS), some  users (e.g. RLS beacon manufacturers) might not be able to obtain such relevant information, and, in an effort to improve the transparency and communication, such operational notifications (ex: Cospas-Sarsat SIT 605 messages) are also published under a new dedicated SAR/Galileo information page. The NASU may include information related to SAR/Galileo system status, planned or unplanned outages, maintenance activities, relevant Galileo system tests, and/or information on the commissioning of new SAR/Galileo elements and/or new System capabilities.
Bookmark this page: SAR/Galileo Operational Notifications
Below there is an example of an operational notification message to SAR/Galileo Service Users (SIT605), which could be distributed to inform Cospas-Sarsat about a planned outage of GSAT0214 SAR payload.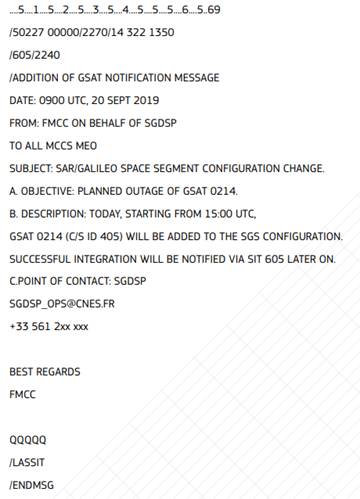 Figure 1: Example of SIT 605 with conditions and format compliant to the Cospas-Sarsat directives.
Moreover, to enhance the redundancy of MEOSAR ground segment calibration means and in particular European coverage areas, the Galileo Programme has deployed and set into operations three new SAR/Galileo Calibration Beacons (CALBE) both of First and Second Generation compatible.

The SAR/Galileo CALBEs are co-located with the three European MEOLUTS in Maspalomas, Larnaca, and Spitsbergen. Their operational status will be provided along with the five Reference Beacons (REFBE) and in an updated SAR/Galileo Reference and Calibration Beacons information page.

Read this page: SAR/Galileo Reference and Calibration Beacons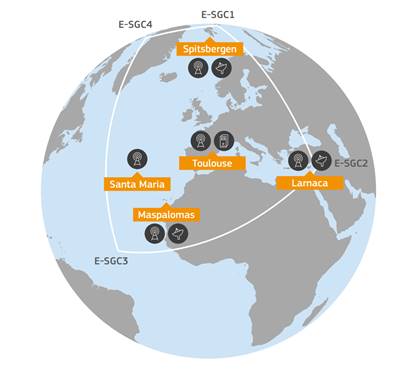 Figure 2: European SAR/Galileo forward link service coverage and SAR/Galileo sites
The Galileo/SAR Service Definition Document (SAR SDD), available in the European GNSS Service Centre electronic library, is destined to Galileo SAR users, and describes in detail the characteristics and performance of the Galileo SAR Services. Galileo SAR users wishing to receive more information can send their inquiries to the European GNSS Service Centre Help Desk at: www.gsc-europa.eu/helpdesk.
Media note: This feature can be republished without charge provided the European Union Agency for the Space Programme (EUSPA) is acknowledged as the source at the top or the bottom of the story. You must request permission before you use any of the photographs on the site. If you republish, we would be grateful if you could link back to the EUSPA website (http://www.euspa.europa.eu).