Recently, research and development in E-GNSS has undergone a major shift from being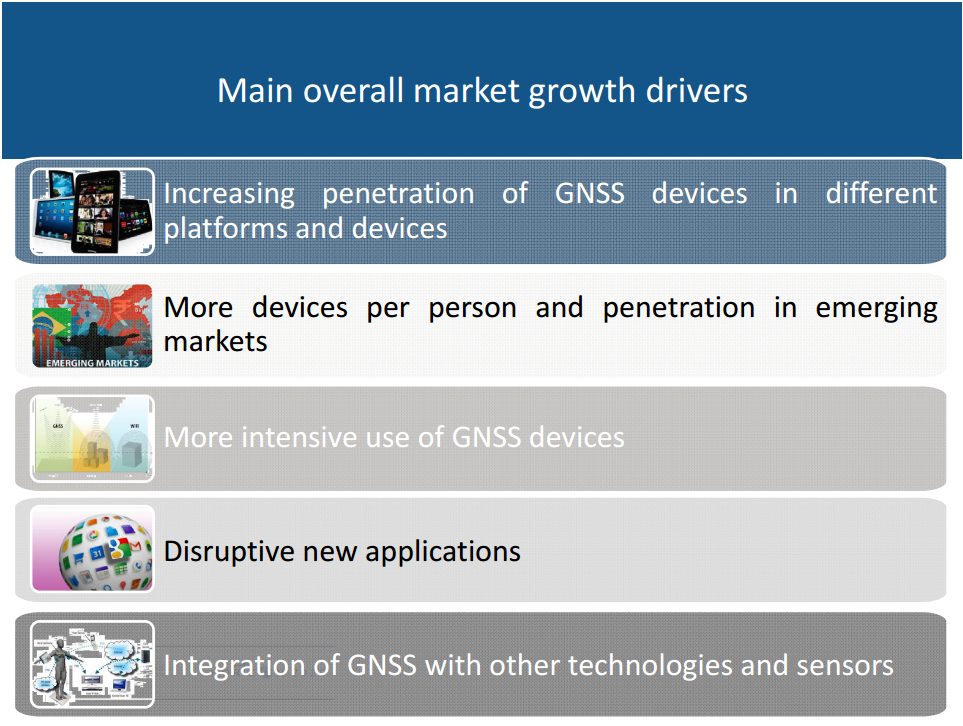 technology driven to being user driven.  "Today, user needs are driving services, as can be seen from the many user-focused services coming from the FP7 funding period," said GSA Head of Market Development Gian-Gherardo Calini, speaking at a recent workshop on Horizon 2020 funding opportunities.
For example, out of the 299 proposals submitted during the FP7 cycle, 86 projects received a total of EUR 66 million in funding. Projects covered all market sectors and resulted in 43 product innovations, 10 trademarks and patents registered and 77 prototypes.
One example of this success is the FP7 supported UNIFARM User Forum, which focuses on expressing and defending the GNSS needs of the agricultural sector. The project held regular user forum meetings, bringing together stakeholders with the purpose of discussing the uptake of GNSS technology. The discussions ultimately led to a research agenda and policy suggestions on improving the use of GNSS in the agriculture sector.
"Our stakeholders value the user forum for its open and independent brokerage and knowledge transfer," explained Project Coordinator Tamme van der Wal. "The forum will continue after the end of the project, with the aim of discussing how Galileo, EGNOS and GNSS in general contributes the challenges facing farming today."
Another example is the HEDGE-NEXT project within the aviation market. "The HEDGE-NEXT project implemented the first EGNOS based PinS procedure to Insel Hospital in Bern, enabling safe landing in all weather conditions. It has been very important for us as it brought us the opportunity to understand and remedy the problems preventing the implementation of EGNOS procedures in the helicopter sector," says Mercedes Reche. "This experience has proved valuable for positioning our company to better serve this unique user segment."
Horizon 2020 too is already producing results, following the first call for proposals last year. The call received 105 eligible proposals with a requested EUR 174.3 million from a budget of EUR 38 million. "This shows that there is strong interest and desire to contribute to the success of European GNSS," said Calini.
Facing strong competition, 25 proposals were invited to the grant preparation phase, 19 coming from innovation actions and six from coordination and support actions.
"Clearly, these funding opportunities accelerate the progress of products and services that, on the one hand, serve user needs and improve the quality of life of European citizens and, on the other, creates growth, economic opportunities and jobs that keep Europe competitive in this rapidly evolving market landscape," said Calini.
Scanning Horizons
As part of an ongoing effort to scan the horizon for the latest trends in GNSS, the GSA also included a presentation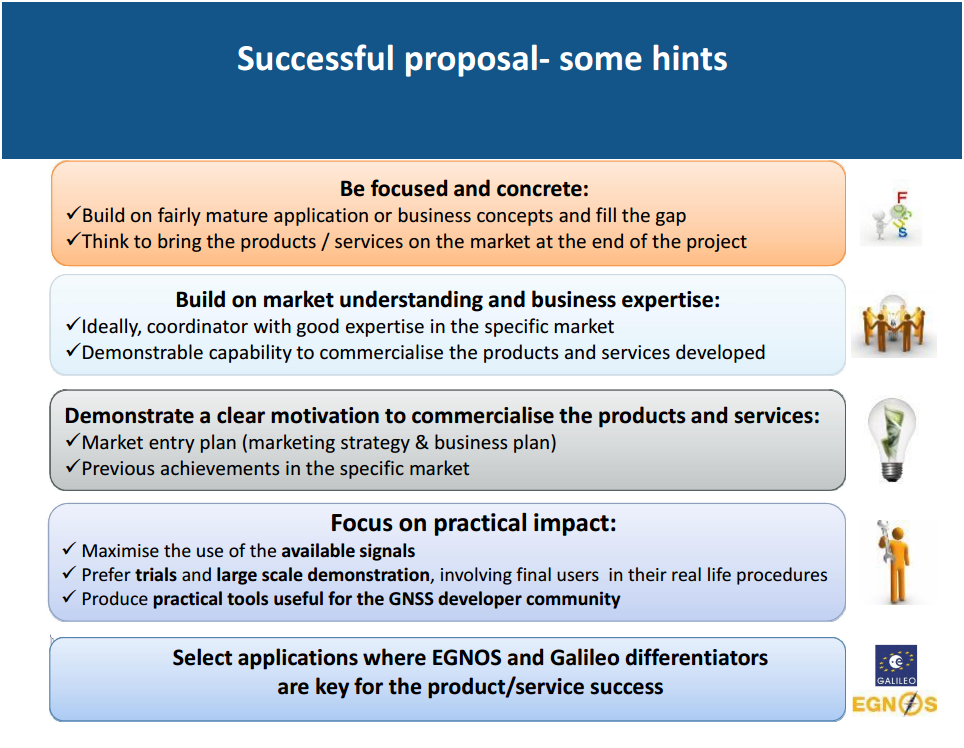 on the Galileo  part of the Horizon 2020 Space Work Programme 2016 – 2017 Consultation during its Horizon 2020 Workshop. For example, identified market growth trends include increasing penetration of GNSS devices in different platforms and devices and a proliferation of devices per person and across different regions –particularly in emerging markets. Identified technology trends include multi-constellation/multi-frequency devices in wider markets, fusion with other services and seamless, connected services.
With these trends in mind, the strength of the EU value chain is in the downstream market, such as component manufacturers, system integrators and value added service providers. Knowing this, the EGNOS and Galileo features that should be leveraged are its civil nature, high precession and authentication services and integrity function in order to maximize public, societal and private benefits. Thus, Working Programme (WP) 2016 -2017 focuses on opportunities primarily in the consumer, transport and professional domains.
How to Apply
Interested in applying? Applications should promote innovation, demonstrate a clear advantage of using Galileo and EGNOS, and include synergies with other GNSS systems. Proposals should aim at the definition and implementation of pilot projects and development of those EGNSS-enabled applications that are close to the market and driven by user requirements with a high societal benefit and a potential to eventually set common standards in the field of GNSS applications. The proposal should have a clear intention and rationale to commercialise the products and services developed, including a business plan.
The Horizon 2020 second call for proposals opened on 4th of November 2014 and the final and complete form of proposals must be submitted by 8th of April 2015, 17:00:00 (Brussels local time). For information related to eligibility and admissibility conditions, submission and evaluation process, rules for funding, guide manuals, templates, etc., please visit the official European Commission's Participant Portal. 
All applications within Innovation Actions (IA) must include a minimum of three independent legal entities established in different Member States or Associated Countries.
The H2020's simplified funding model applies the same rate to all beneficiaries and activities in the grant. The rate is fixed ex-ante in the WP (i.e., not negotiated per project), with funds available for up to 100% of total eligible costs. However, funding is limited to a maximum 70% for actions close to market (IA), except for non-profit universities and research institutions who will be able to receive up to 100%. The specific rate will be determined in view of the overall character of the activities to be supported.
On receipt of the proposal, the department in charge of the implementation of the programme will check it for eligibility in accordance with the defined programme criteria. All eligible proposals will then be independently assessed against pre-determined evaluation criteria by at least three experts.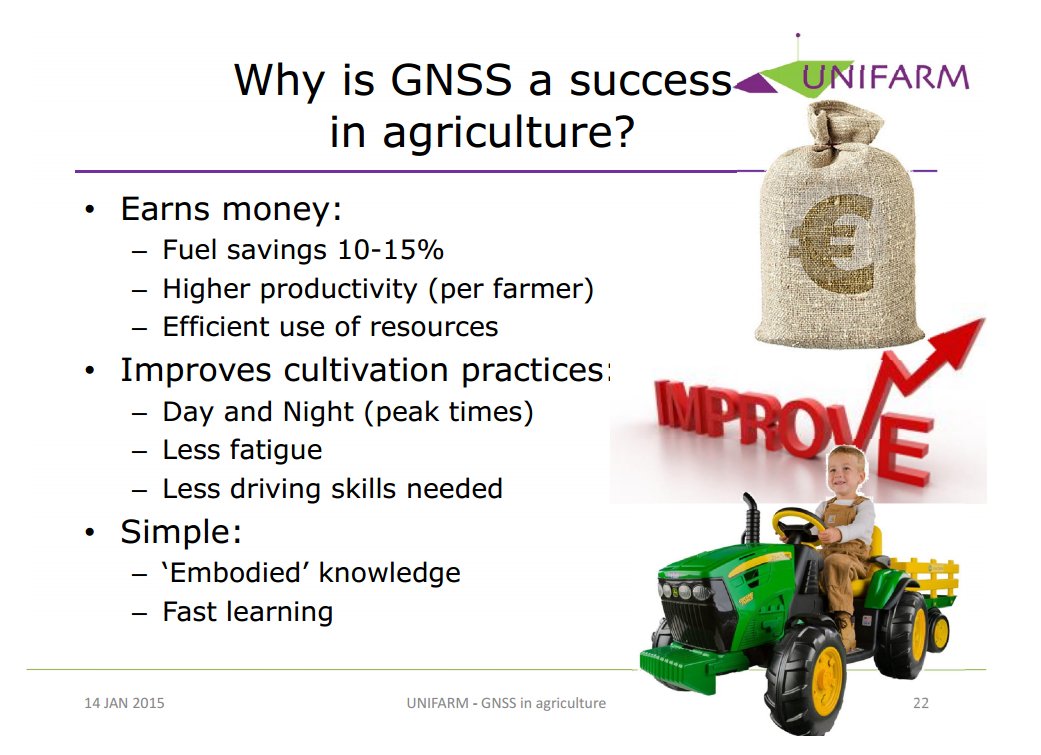 Tips for Putting together your Submission
Be focused and concrete
Build on you technical and market understanding and expertise
Demonstrate a clear motivation to commercialize the products and services
Focus on the practical impact
Select applications where EGNOS and Galileo differentiators are key for the product or services success
"Today, user needs are driving services, as can be seen from the many user-focused services coming from the FP7 funding period."
-
GSA Head of Market Development Gian-Gherardo Calini
Media note: This feature can be republished without charge provided the European GNSS Agency (GSA) is acknowledged as the source at the top or the bottom of the story. You must request permission before you use any of the photographs on the site. If you republish, we would be grateful if you could link back to the GSA website (http://www.gsa.europa.eu).
More information:
The European GNSS Agency
EGNOS Portal
Horizon 2020 Workshop Presentations
Workshop Web Broadcast
Horizon 2020 Page