A Report from the European GNSS Agency (GSA) on Aviation User Needs and Requirements highlights current and future requirements for position, navigation and timing in the aviation sector and will feed into the discussion at the next EGNSS User Consultation Platform (UCP), to be held in Marseille on 3-4 December 2018 as part of European Space Week.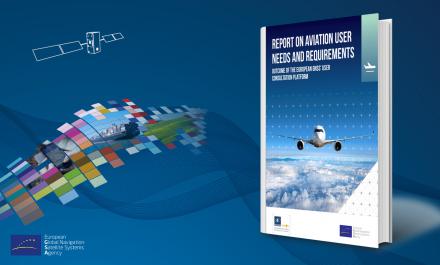 The report, one of a series on User Needs and Requirements for position, navigation and time published recently on the European GNSS Service Centre web portal, provides a reference for the European GNSS Programmes and for the aviation community on the latest GNSS user needs and requirements in the aviation market segment. The report is considered a "living document" and will be periodically updated to reflect the evolution of technology, the market and user needs, as captured during the upcoming UCP.
Watch this: EGNOS for Aviation
With EGNOS fully operational and Galileo providing initial services, it is necessary to continuously improve services and plan future evolutions, and user requirements are a key driver of this process. By providing the GSA with a clear view of current and potential future user needs, the Report will serve as an input for the continuous improvement of services provided by the European GNSS systems. Furthermore, as the report is publicly available, it also serves as a reference for users and industry, supporting their planning and decision-making.
Some key insights
The Report provides an overview of GNSS market trends in the four main aviation applications using GNSS: navigation, surveillance, aircraft tracking and drones.  For navigation, the Report notes that, with the increasing implementation of RNP approaches and the expansion of the EGNOS-enabled fleet, there is a need for increased coverage area. The report also notes an increasing trend to combine GNSS with other technologies such as Enhanced Vision Systems and Synthetic Vision Systems.
Regarding Search & Rescue and autonomous aircraft distress tracking, the development of beacons integrating Galileo RLS is progressing, led by major EU manufacturers who are also exploring advanced uses, such as automatic triggering of ELT and remote activation from the ground, opening new opportunities for search and rescue operations.
Finally, for drone operations, Galileo is expected to provide superior performance in challenging environments, facilitating operations in urban canyons, for example. Work is currently ongoing to define a common set of requirements on positioning, navigation and surveillance for drones and follow-up discussions on user needs and requirements for drone operations related to GNSS are fundamental to this process.
The EGNSS User Consultation Platform
The User Consultation Platform (UCP) is a periodic forum organised by the European Commission and the GSA, involving end users, user associations and representatives of the value chain, such as receiver and chipset manufacturers, application developers and the organisations and institutions dealing, directly and indirectly, with Galileo and EGNOS. The event is a part of the process developed at the GSA to collect user needs and requirements and take them as inputs for the provision of user-driven Galileo and EGNOS services.
The next User Consultation Platform will be held on 3-4 December, during European Space Week. The main work of the UCP will be carried out in eight parallel panel sessions grouping users by market segment, with a dedicated session on aviation.
European Space Week also has a special session on the EGNOS Safety of Life Service, which will address EGNOS in action, with presentations of successful EGNOS implementation stories in aviation by a wide range of stakeholders, from airlines to air navigation service providers and from manufacturers to operators. This year, the EGNOS Service Provision Workshop has also been integrated into EUSW.
To join the ongoing discussion and to ensure that future European space programme evolutions meet your needs and requirements, you can take part by registering here.
Media note: This feature can be republished without charge provided the European GNSS Agency (GSA) is acknowledged as the source at the top or the bottom of the story. You must request permission before you use any of the photographs on the site. If you republish, we would be grateful if you could link back to the GSA website (http://www.gsa.europa.eu).