The MAGNIFIC project promoted international cooperation with a view to enabling the development of EGNSS applications in Africa. Several months after the project ended it is continuing to deliver results, as indicated by a recent contract signed by Togo and Thales Alenia Space to install a new search and rescue (SAR) ground station in Lomé.
The core aim of the MAGNIFIC (Multiplying in Africa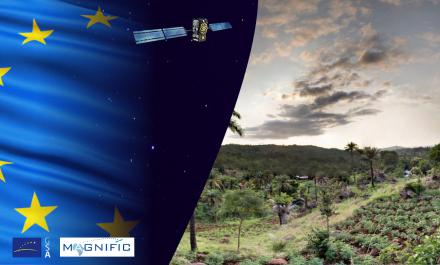 European Global Navigation Initiatives Fostering Interlaced Cooperation) project, which was funded in the Horizon 2020 1st Galileo call, was to demonstrate the benefits of EGNSS (EGNOS and Galileo) to African stakeholders. The project focused in particular on the six priority market sectors identified in the GSA Action Plan on GNSS applications: road, aviation, maritime, precision, agriculture/environment protection, civil protection and surveillance, and LBS.
EGNSS - a catalyst for development
The effectiveness of the project's EGNSS promotion work is evidenced by the recent signing of a contract between Togo and Thales Alenia Space for a ground station to be installed in Lomé, Togo, to be used in search and rescue (SAR) operations, mainly using the Galileo satellite positioning system. Based on Thales Alenia Space's MEOLUT Next (Medium Orbit Local User Terminal), the latest-generation MEOSAR (Medium Orbit Search and Rescue) technology, this system will enable the instantaneous location, with unprecedented accuracy, of a distress call issued by a beacon operating through the COSPAS-SARSAT system.
Read this: GSA hosts Cospas-Sarsat meeting
"In addition to being a great commercial achievement, this contract clearly shows that Togo is taking a leading role in adopting EGNSS applications in Africa. More importantly, it shows us that Africa is a continent that sees Galileo and EGNOSas a catalyst for development. This is a clear, direct and positive result of the strategy we, as a consortium, implemented within MAGNIFIC," Thales Alenia Space Systems Engineer Michel Monnerat said. "I am sure this first step will pave the way for many future successes in Africa," he added.
Fully integrated
The fully integrated ground station comprises a compact, high-tech beam-shaping antenna capable of taking maximum advantage of Galileo's SAR service, a Mission Control Centre (MCC) dedicated to managing and distributing alerts, and a Rescue Coordination Centre (RCC), which interfaces with systems already in place locally or in neighbouring countries.
The ground station will detect and locate any distress signal triggered by a ship, plane or land vehicle, thus enhancing the safety of people and goods. The unexcelled coverage provided by the beam-shaping antenna will allow Togo to receive distress signals over a radius of more than 3,000 kilometres, which means it will cover the entire Gulf of Guinea and a large part of the African continent.
Long-lasting impact
Togo was a particular target of the MAGNIFIC project, which recognised the presence of key economic drivers in the country that were compatible with the development of EGNSS. In the field of civil aviation, two LPV procedures were designed at Lomé airport, achieving minima of 250 feet, compared to 400 feet for existing LNAV procedures, and the feedback from the pilots was extremely positive. The results of this flight campaign were presented during the project's final conference in Lomé.
Lomé hosted both MAGNIFIC's first "European GNSS Applications Conference in Africa" in 2015 and the final conference in 2017. The contract between Togo and Thales Alenia Space bears testimony to the long-lasting impact of the Horizon 2020 project.
Media note: This feature can be republished without charge provided the European GNSS Agency (GSA) is acknowledged as the source at the top or the bottom of the story. You must request permission before you use any of the photographs on the site. If you republish, we would be grateful if you could link back to the GSA website (http://www.gsa.europa.eu).