As Galileo moves closer to full services, an international group of young professionals gathered to discuss how space has entered the mainstream in our daily culture.
For the second year in a row, leaders from the European GNSS Agency (GSA) were part of discussions and learning at the Space Generation Fusion Forum (Fusion Forum), this year held on April 14-15 in Colorado Springs, U.S.A. The two-day development and networking event for approximately 60 students and young space professionals is held annually in conjunction with the International Space Symposium.
Sixty years after the launch of Sputnik, the gathering of individuals 35 years old and younger met to explore the core theme "Space in the Mainstream." Through discussion tracks, expert panels, keynote presentations and interactive activities, the attendees discussed how space-related innovations, such as global navigation satellite systems (GNSS) have become mainstream to our culture and common in our everyday and professional lives.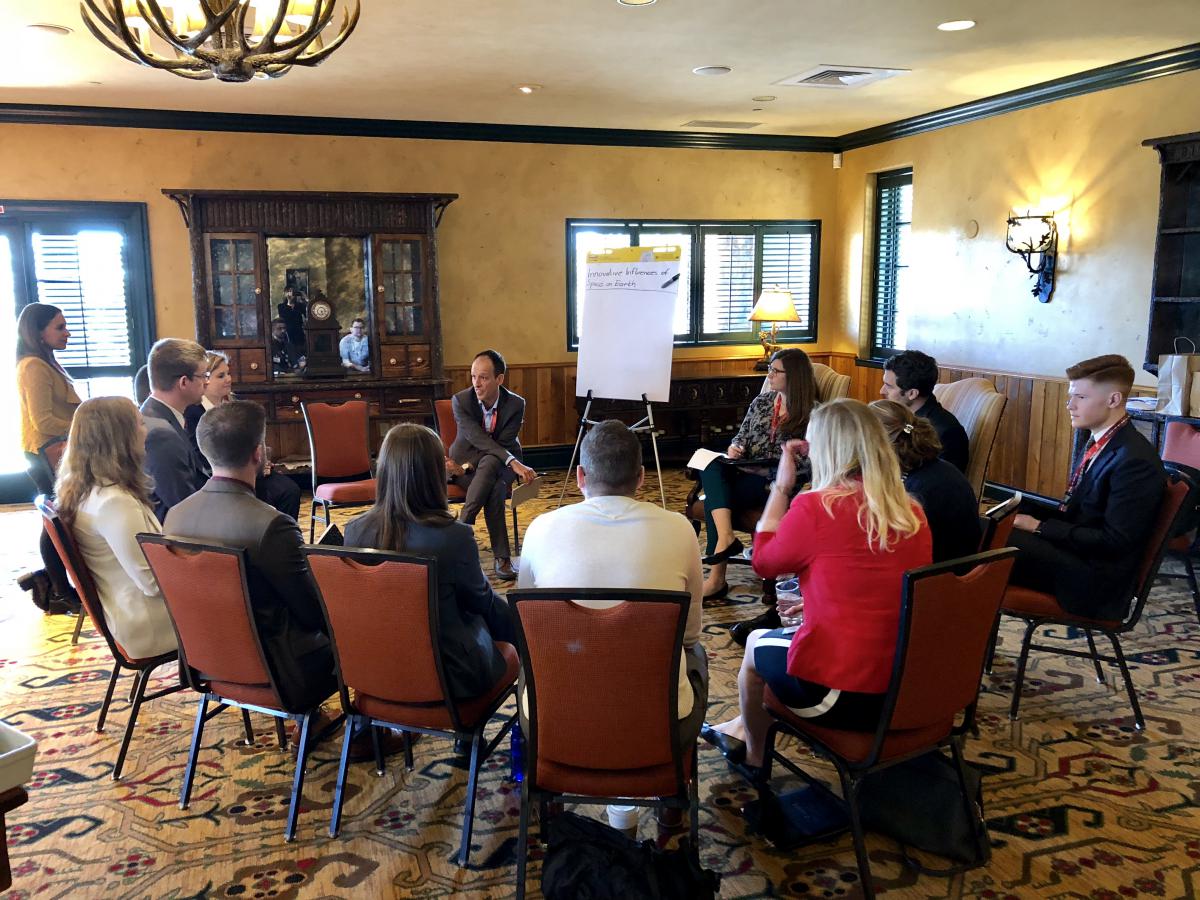 GSA's Rodrigo da Costa moderates a group discussion at the Space Generation Fusion Forum
Delivering maximum performance
Rodrigo da Costa, Galileo Services Programme Manager at the GSA, moderated the "Innovative Influences of Space on Earth" discussion track. As a backdrop to the conversation, da Costa noted that the European global navigation constellation, Galileo, is already providing service to millions of people, with more satellites launching into service this year.
"Four more Galileo satellites were launched in December 2017 and will enter service in 2018," noted da Costa. "These satellites will join the 18 others already in space, and four more are scheduled for launch in July. The result is a next generation of location technology that will deliver maximum performance, flexibility and reliability to further evolve services into our daily lives."
Carlo des Dorides, Executive Director of the GSA, provided the closing remarks at Fusion Forum. Through a presentation entitled "The dream becomes a reality," des Dorides provided perspectives of the transition of space from myth to 'mainstream.'
GNSS – a truly pervasive reality
"A primary mainstream case is GNSS," said des Dorides. "There were 25 navigation satellites 20 years ago, today there are more than 80. GNSS is an invisible revolution that has helped to turn the science fiction of the 1960s into a truly pervasive reality. Today, everyone has a space receiver in their pocket. Satellites in the mainstream help us move, play and work – from traffic management apps to guiding tourists and precision farming."
Citing what to expect on the horizon, des Dorides outlined how satellite technology will advance to enable ubiquitous positioning capabilities, autonomous vehicles and farming, along with passive to active augmented reality.
"All of this innovation is becoming mainstream as Galileo grows closer to full services," concluded da Costa. "GSA is Europe's 'mainstream space catalyst'. We are changing the technology paradigm and focussing on evolving user requirements as we approach the threshold of living on a planet where every person has a GNSS device."
GSA Scholarship winner outlines how satellite technology can help fulfil the UN's Sustainable Development Goals
As part of its participation in the 2018 Fusion Forum, the European GNSS Agency (GSA), in cooperation with the Space Generation Advisory Council (SGAC), sponsored the Young GSA – Space Systems Synergy Scholarship, which funded attendance to the event for one delegate.
Participants were asked to share their views on how the integrated use of space infrastructure – global satellite communications, satellite navigation (including Europe's Galileo and EGNOS), and Earth observation/monitoring (including Europe's Copernicus) – also known as the 'system of three,' can create a safer and more sustainable world.
The winning submission came from Sissi Enestam, an aspiring space professional who is completing her doctorate in Space Science and Technology at Aalto University, in Espoo Finland. Enestam outlined how the "system of three" could aid in multiple ways to help society fulfil all 17 of the United Nations' (UN) sustainable development goals.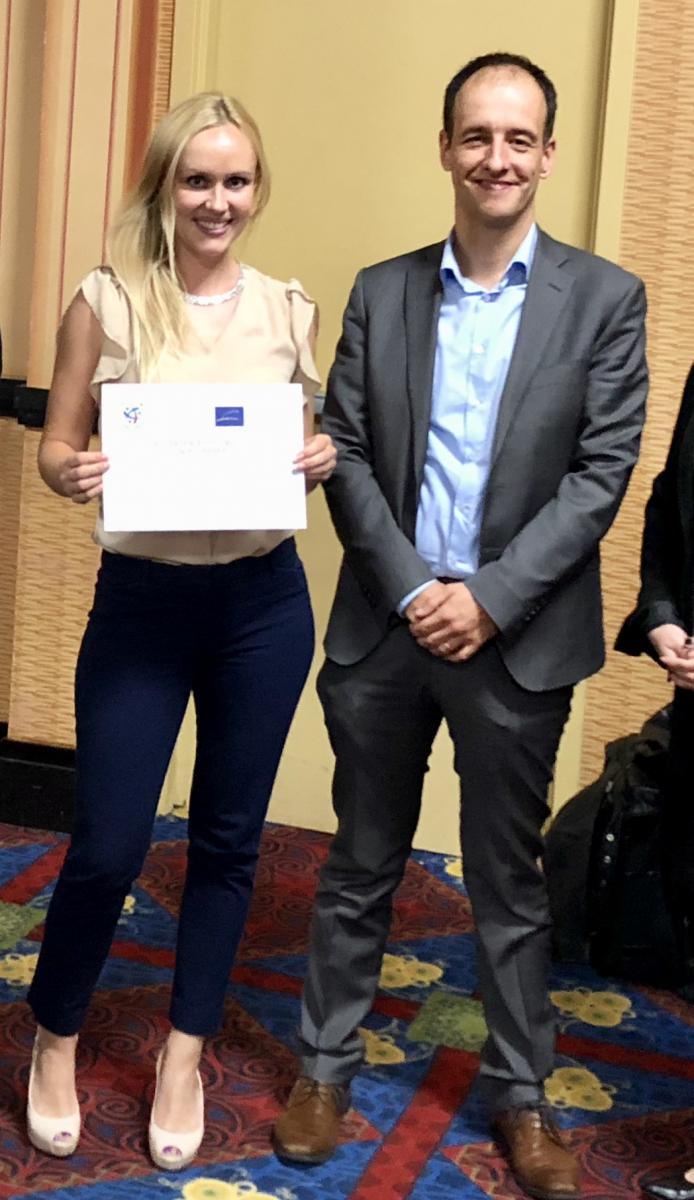 Rodrigo da Costa presents the award to Sissi Enestam, the recipient of the 2018 Young GSA - Space Systems Synergy
Media note: This feature can be republished without charge provided the European GNSS Agency (GSA) is acknowledged as the source at the top or the bottom of the story. You must request permission before you use any of the photographs on the site. If you republish, we would be grateful if you could link back to the GSA website (http://www.gsa.europa.eu).