The European GNSS Agency (GSA) attended Agritechnica – the world's largest trade fair for agricultural machinery and equipment – in Hanover, Germany to discuss and promote the important role that European GNSS plays in precision farming.
Precision agriculture utilises a myriad of different technologies to make farming more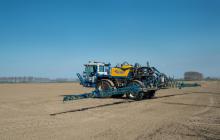 efficient, to improve crop yield and reduce environmental impact. GNSS-enabled applications are key to these efforts, from farm machinery guidance using GNSS positioning, to automatic steering, yield monitoring and livestock tracking.
One of the most beneficial uses of GNSS is in yield monitoring, where the output of a yield sensor is combined with the GNSS positioning of the harvester, enabling site-specific monitoring. Soil condition monitoring, allowing farmers to see real-time updates on soil moisture levels, fertility, and diseases, is another area where GNSS applications are extremely useful.
"The role of European GNSS systems, specifically EGNOS and soon Galileo, in agriculture is to decrease costs and increase yields.," said GSA Market Development Officer Reinhard Blasi, speaking at Agritechnica in Hanover. "Precision agriculture is highly effective, and allows farmers to optimise their fields with less fertiliser, pesticide, fuel, or labour input, so they can reinvest those savings in new equipment or other growth options."
With a growing world population that needs to be fed, along with increasing climate issues, maximising output while saving resources is more important than ever. The main GNSS application is tractor guidance, which increases efficiency. When used to spray insecticides or in harvesting crops, EGNOS also increases yields and helps provide food supply around the world.
GNSS Applications in the Field
At Agritechnica, several companies demonstrated how they are using satellite navigation on a daily basis. For example, Topcon Precision Agriculture offers five solutions using satellite navigation:
Control–auto-steering
Implements–seeding and spraying
Measuring the colour of green
Drones (both fixed wing and octocopter)
Yield Mapping Monitor
Topcon currently uses GPS and Glonass, but is eagerly awaiting Galileo. "The technology comes just in time," said Julian Rioja, Marketing Manager EAME for Topcon.
Another company benefiting from EGNOS in the field is AGCO. AGCO uses EGNOS technology for precision mapping, field mapping for harvest, and mapping yield. "The EGNOS capability works well in our machinery, and we have had good interactions with the GSA," said Paul Lay, Manager, Marketing Creative Services and Public Relations. "We're ready for Galileo."
Farmnet 365's Klaus-Herbert Rolf agreed that EGNOS has been working well in the agriculture sector. "One of the biggest success of EGNOS is in the agriculture industry," he said, citing food traceability as one area of particular success. 365 Farmnet's technology currently saves 5% of working time for farmers, and saves 10-15 Euro per hectare. He also noted that the company is business-ready for Galileo, and he hopes the technology is launched soon, with a comprehensive communication strategy for businesses, in order to develop a complete roadmap and training plan to implement it as seamlessly as possible. 
GSA-Financed Project Takes Home Award
Also at Agritechnica, the CLAAS Group was awarded a silver medal for its CLAAS field route optimisation
system, which optimises working passes for every field and accurately forecasts the processing time required. The solution, which results in an average cost reduction of 6%, was financed by the GSA FP7 project GEOPAL.
"This represents a tremendous potential, seeing that we have about 13 million farms in Europe," said Christian Radons, Senior Manager Precision Farming at CLAAS Global. "We greatly appreciate the joint efforts from the GSA, and we are proud to have a great sellable product in the market."
Anticipating Galileo
The GSA is eager to see how Galileo will enhance precision farming even further once utilised by agriculture companies. Both now and in the future, GNSS-enabled applications are a cost-effective solution to make farming more efficient, increase crop yield, and reduce the environmental impact of farming.
Media note: This feature can be republished without charge provided the European GNSS Agency (GSA) is acknowledged as the source at the top or the bottom of the story. You must request permission before you use any of the photographs on the site. If you republish, we would be grateful if you could link back to the GSA website (http://www.gsa.europa.eu).