Ready to take the pulse of the GNSS user technology industry? Want to get an inside view on how the latest trends are changing the market? Then sign up today to be one of the first to download a free copy of the GSA's GNSS User Technology Report – Issue 2.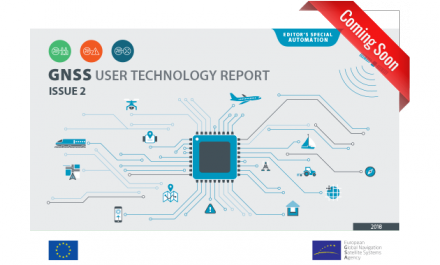 Since its launch in 2016, the GNSS User Technology Report has become the go-to-source for comprehensive knowledge and information on the dynamic, global GNSS technology industry. This free, downloadable publication takes an in-depth look at the latest state-of-the-art GNSS receiver technology, along with providing expert analysis on the evolutionary trends that are set to define the global GNSS landscape – and our daily lives – in the coming years.
Latest developments and future trends
Issue 2 opens with an overview of the latest developments and future trends in GNSS, with a focus on multi-constellation and multi-frequency applications that drive new trends. "The most important new trend identified in this issue is the rapid adoption of multiple frequencies, including for consumer devices, as evidenced by the market introduction of the first dual-frequency smartphone in May 2018," says GSA Executive Director Carlo des Dorides.
The Report also provides an in-depth look at applications and solutions within the transport safety, liability-critical, high precision, timing and mass market domains, maintaining the same structure as in issue 1, but again full of new exciting trends and drivers.
The final section is dedicated to automation. "The 'Editor's special' section of this issue is devoted to automation and to the increasingly important role GNSS plays in a number of partially- or fully-automated tasks and functions, including driverless cars, autonomous vessels and drones," adds des Dorides.
The analysis of GNSS user technology trends is supported by testimonials from key suppliers of receiver technology, including: Broadcom, Javad, Kongsberg, Leica, Maxim Integrated, Meinberg, NovAtel, Orolia-Spectracom, Qualcomm, Septentrio, STMicroelectronics, Thales, Trimble and u-blox.
Reserve your free copy today!
Although the GSA GNSS User Technology Report won't be officially launched until September 24, you can already register today to be automatically notified when it is available to download. The insights in the Report will be explained at the IPIN-2018 conference in France (Sept 24-27) and the ION GNSS+ conference (Sept 24-28) in the US. Held in Miami, Florida, ION is the world's largest technical meeting and showcase of GNSS technology, products and services.
Media note: This feature can be republished without charge provided the European GNSS Agency (GSA) is acknowledged as the source at the top or the bottom of the story. You must request permission before you use any of the photographs on the site. If you republish, we would be grateful if you could link back to the GSA website (http://www.gsa.europa.eu).