The GNSS world marks Beacon Awareness Day (406 Day) on 6 April. But this celebration also has a more serious purpose - serving as a reminder to the owners of Search and Rescue 406MHz beacons to test them, check their batteries and update their Cospas-Sarsat or National Oceanic and Atmospheric Administration (NOAA) registration.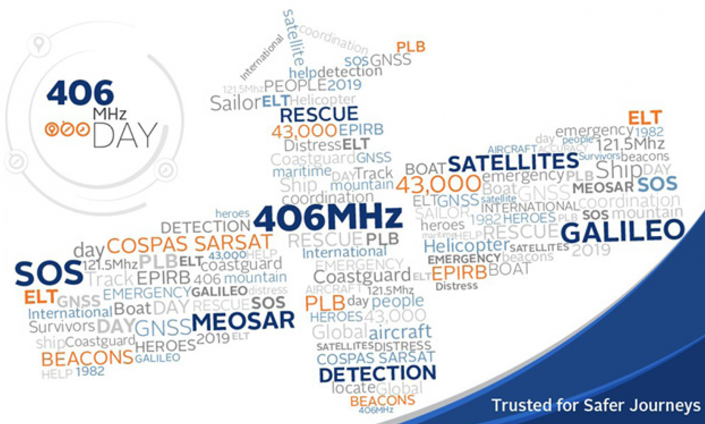 Satellite navigation saves lives every day.
406 Day was started in 2013 by US beacon manufacturer ACR Electronics. Since then, the day has become an opportunity to raise public awareness of the benefits and responsibilities of owning 406 MHz beacons such as Emergency Position Indicating Radio Beacons (EPIRBs) and Personal Locator Beacons (PLBs). It is also an opportunity to let people know that beacons save lives, and to encourage people to #getabeacon.
"We can't stress it enough – beacons save lives. If you work at sea, carrying a beacon with you will enable search and rescue services to find you quickly in an emergency – it can literally mean the difference between life and death," said Manuel Lopez, Technology Officer at the European GNSS Agency (GSA).
Watch this: MEOSAR – Reaching you faster when every minute counts
If you already own a beacon, you can register it on the Cospas-Sarsat database. For contact details for beacon registration in your country, click here. To register your beacon with the U.S. National Oceanic and Atmospheric Administration (NOAA), click here.
Galileo helping to save lives
The GSA officially launched the Galileo's SAR service to coincide with 406 Day back in 2017, and this service has recently received a significant upgrade, with the launch earlier this year of the Galileo Return Link Service (RLS), which allows people in distress to receive automatic acknowledgement that their alert has been received and is being processed. The RLS, currently offered uniquely by Galileo, is a free-of-charge global service available to Cospas-Sarsat RLS compatible beacons. 
The first performance evaluation of the Galileo RLS, published last month, showed excellent service provision that exceeded targets. The evaluation showed that the RLS was available 100% of the time, above the target value of 95%. On average, the system took 37 seconds to deliver automatic acknowledgement to the beacon, significantly better than the target value of 15 minutes. For more information, see the updated SAR/Galileo Service Definition Document.
Read this: Operation Shark Bait: Galileo SAR will save lives!
The Galileo SAR service, Europe's contribution to the international satellite-based Cospas-Sarsat system, is comprised of two components: an automatic forward link distress alert and the RLS. This combination, along with the increased positioning accuracy provided by Galileo, has reduced the time it takes to detect a person lost at sea or in the mountains from three hours to just 10 minutes after the distress beacon is activated. Localisation of the distress beacon has also improved - from 10 km to less than 5 km.
To learn more of Galileo Search and Rescue service click here.
Media note: This feature can be republished without charge provided the European GNSS Agency (GSA) is acknowledged as the source at the top or the bottom of the story. You must request permission before you use any of the photographs on the site. If you republish, we would be grateful if you could link back to the GSA website (http://www.gsa.europa.eu).