The third Galileo Initial Services Open Service (IS OS) Quarterly Performance Report, which covers the period from July to September 2017, has been published and is available in the Performance Reports section of the GSC web portal.
The third Galileo IS OS Performance Report has now been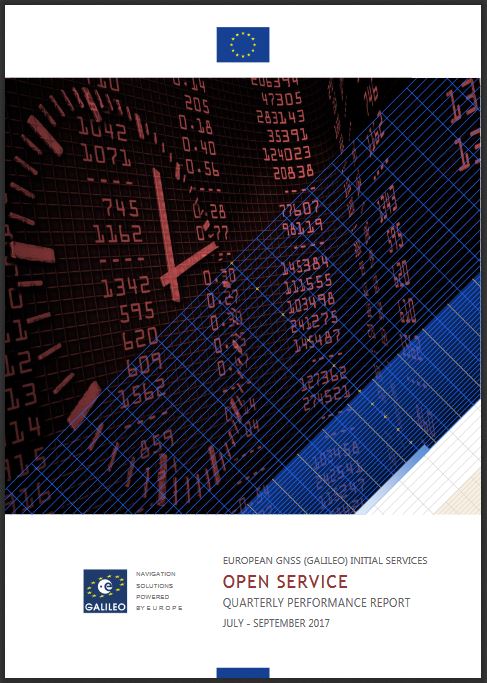 published, with information on the status of the Galileo constellation in the reported period (July, August and September 2017).
These quarterly reports provide the public with the latest information on the Galileo Open Service measured performance statistics, in particular, on parameters such as:
Galileo Initial OS ranging performance,
Galileo Coordinated Universal Time (UTC) dissemination,
Galileo to GPS Time Offset (GGTO) determination performance, and
Timely publication of NAGUs.
Each of these parameters is examined with respect to their Minimum Performance Levels (MPLs), as defined in the Galileo OS Service Definition Document (OS SDD).
Highlights from Q3 2017
As in the first two quarters of the year, the measured Galileo Initial Open Service performance figures for the third quarter of 2017 generally exceed the MPL targets by significant margins.
Some highlights from the Q3 performance report:
Excellent values are achieved for UTC Time Dissemination Service Accuracy, UTC Frequency Dissemination Service Accuracy and the GGTO Determination Accuracy, all computed by accumulating samples over the previous 12 months.
Availability of both the Galileo Ranging Service at the WUL and the Healthy Signal were above expectations, reaching values of 100% and 98% respectively.
Values were comfortably achieved for the Availability of the Galileo UTC Time Determination Service, with all monthly values exceeding the MPL target.
MPLs for the Timely Publication of NAGUs were met during the entire period for both Planned and Unplanned events.

For the most up-to-date information on the Galileo system and constellation, visit the European GNSS Service Centre (GSC) website, in particular, the Galileo constellation status section. For more details on Galileo performance and services, please contact the Galileo Help Desk.
Media note: This feature can be republished without charge provided the European GNSS Agency (GSA) is acknowledged as the source at the top or the bottom of the story. You must request permission before you use any of the photographs on the site. If you republish, we would be grateful if you could link the article back to the GSA website (http://www.gsa.europa.eu).