Mark your calendar and join us to knowing more about the Galileo High Accuracy Service (HAS) latest status including live demonstrations and open panel discussions.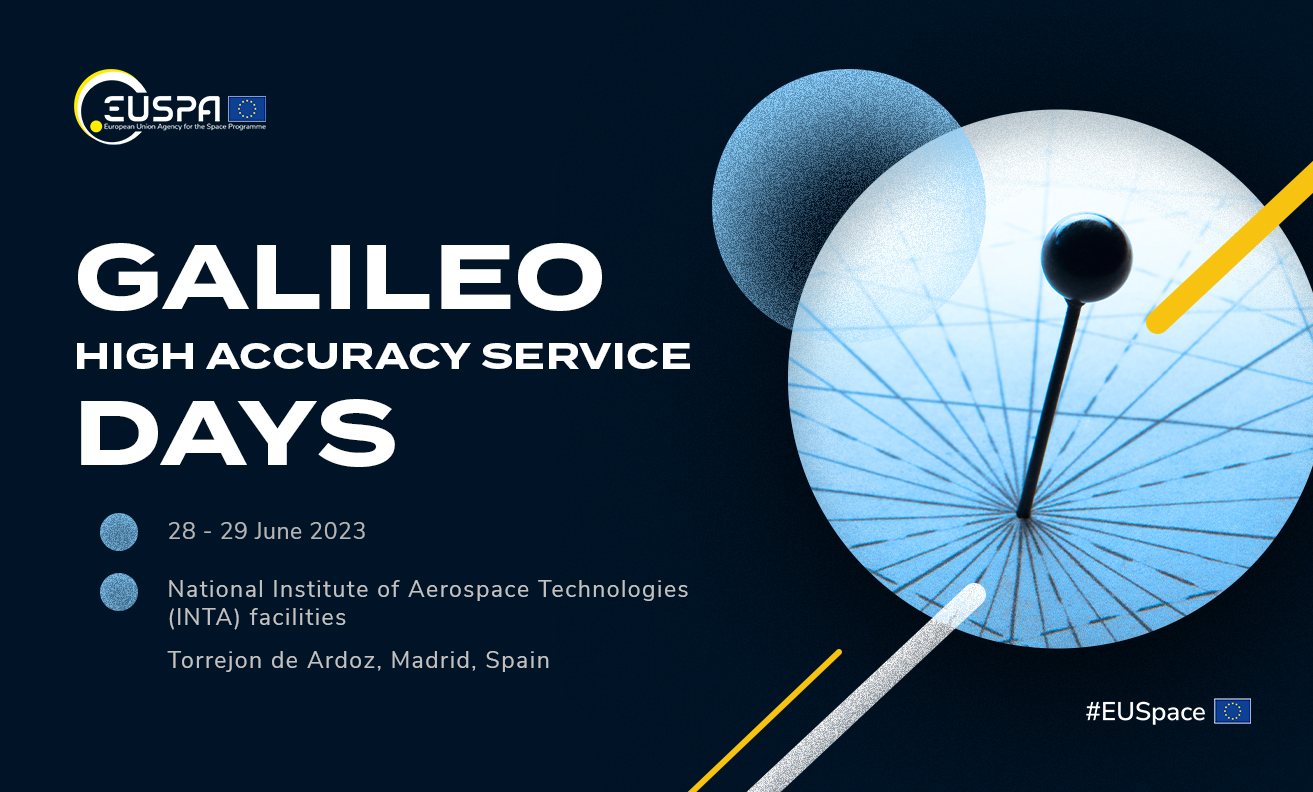 Join us to learn about the Galileo High Accuracy Service (HAS) latest status, attend live demos, and participate in panel discussions.
Scheduled for 28-29 June 2023, this event is an opportunity for the Galileo HAS user community, industry stakeholders, application developers and international experts to know more about the Galileo HAS Service (in operation since January 2023). In addition, it will be a great opportunity for all attendees to come together to discuss and share their expectations on the HAS service challenges and benefits.
During two days, participants will have the opportunity to learn more about the latest status of Galileo HAS service, including current performance, evolution plans and key user applications and to network. There will be also dedicated user sessions in parallel where participants could rotate, including live demonstrations allowing participants to experiment the Galileo HAS capabilities. In addition, participants will have also the chance to visit the European GNSS Service Centre (GSC) premises, the single interface between the Galileo system and the users. The GSC is a centre of expertise, knowledge sharing, custom performance assessment, information dissemination and support to the provision of value-added services enabled by the Galileo services. For the particular case of Galileo HAS, the GSC hosts the High Accuracy Data Generator (HADG), which computes the HAS orbit and clock corrections as well as the signal biases which are broadcast through the Galileo constellation and over the internet.
This first edition of the Galileo HAS Days will be held as a hybrid event, meaning you can join either online or physically in INTA (Torrejón de Ardoz, Madrid - Spain).
The agenda is available here.
Registration for the event is now Closed.
For more information on Galileo HAS, please refer to the service documentation available online.
Media note: This feature can be republished without charge provided the European Union Agency for the Space Programme (EUSPA) is acknowledged as the source at the top or the bottom of the story. You must request permission before you use any of the photographs on the site. If you republish, we would be grateful if you could link back to the EUSPA website (http://www.euspa.europa.eu).