The IMPACT Accelerator is offering up to €2.1 million plus acceleration services to the best companies and start-ups in the connected vehicle industry in the second and final open call of its IMPACT Connected Car programme.
IMPACT Connected Car was designed by the INNOSUP Initiative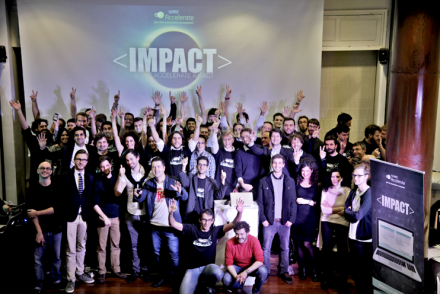 under the Horizon 2020 Programme to give a boost to all parts of the connected car value chain, including industry start-ups. With this aim in mind, it is offering start-ups a six-month acceleration programme and will distribute up to €2.1 million equity free, with selected start-ups receiving up to €60,000.
Top start-ups will also have the opportunity to receive private funding of up to €200,000 from participating venture capital funds. What's more, all participants will be offered a special place in the Connected Car Open Space, a new platform that brings together the connected car community.
Projects selected for the programme will have the opportunity to "smartize" their start-ups while learning from experts in the areas of business, technology, and funding. They will also be able to learn from four pioneer SMEs that are already disrupting the automotive industry and have been integrated into the consortium to inspire other potential disruptors.
GSA as Ambassador
In combination with other automotive sensors and technologies, GNSS has an important role to play in the €141-billion connected car industry. In recognition of this, the GSA is supporting the initiative as an "Ambassador", fostering communication with start-ups, entrepreneurs and young experts working in the field of satellite navigation. The aim is to attract them to the potential market opportunities offered by connected vehicles and other automotive applications.
The Challenges
IMPACT Connected Car is looking for SMEs and start-ups working on applications that address one or more of the following main challenges:
SAFETY & SECURITY - functions that warn drivers of external hazards, and vehicle responses to hazards;

DRIVER ASSISTANCE - functions involving partially or fully automatic driving;

WELLBEING - functions involving driver comfort and ability and fitness to drive;

MOBILITY MANAGEMENT - functions that allow the driver to reach a destination quickly, safely and in a cost-efficient manner;

VEHICLE MANAGEMENT - functions that help the driver/car owner reduce operating costs and improve ease of use;

INFOTAINMENT - functions involving entertainment of driver and passengers.
However, the scope is not restricted to these six topics. Solutions for other mobility modes/topics are also welcome, so long as they are applicable or transferable to car systems.
More than 500 start-ups applied during the first open call and the programme is now accepting applications for its second and final open call. The deadline for applications is 17:00 CET on 18 October. For more information and to apply, click here.
Media note: This feature can be republished without charge provided the European GNSS Agency (GSA) is acknowledged as the source at the top or the bottom of the story. You must request permission before you use any of the photographs on the site. If you republish, we would be grateful if you could link back to the GSA website (http://www.gsa.europa.eu).