The European Space Expo in The Hague showcased how cycling and motorcycling are benefiting from GNSS positioning information.
From a country that has given us such international icons as wooden shoes, windmills, canals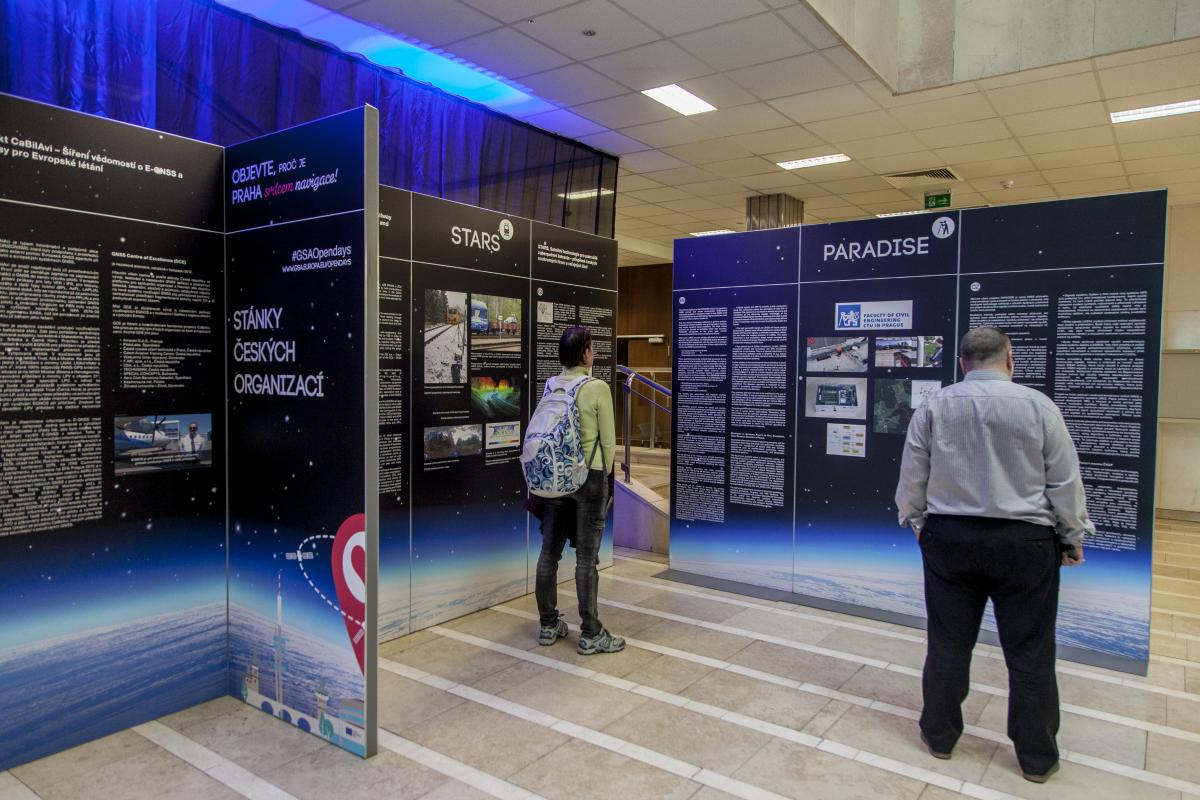 and narrow houses, perhaps nothing symbolises the Netherlands more than the bicycle. So when the European Space Expo landed in The Hague's Het Plein, it was only natural that it came with a special exhibition on the role space solutions play in cycling and motor biking.
The Space Solutions for Biking event showcased the many innovative biking applications powered by satellite navigation (EGNOS and Galileo) and Earth observation (Copernicus) technology. Exhibiting companies covered an array of applications, including bike sharing, smart bike riding and emergency detection for motorbike riders. 
For example, BikePredict is a mobile application that makes self-service bike riding easy by providing information on the number of available bikes and docks, both in real time and in the near future. "What is unique about our product is that we can predict where the bikes are going to be located," says Chief Marketing Officer Clement Collignon. "As a user, you can log onto our app and see that there's a 90 % chance of finding a bike or an open parking spot at a particular bike station in 30 minutes, which lets the user better plan their route."
The app works similarly for the self-service bike operators, telling them how many bikes are docked where. "Trucks have to move bikes from station to station in order to rebalance the system, and this is a fairly significant cost to the operator," says Collignon. "With BikePredict's redistribution function, we estimate that we can help operators reduce costs by up to 25 %."
Likewise, Bike Citizens used the event to show off how GNSS technology can benefit urban cyclists. The innovative app, which was designed by bike couriers, uses positioning information to guide users towards cycle paths and away from busy streets. There's even no need to look down at the map, as Bike Citizens provides voice prompts about when and where to turn – meaning you can always keep your eyes on the road.
"Not only does it create the most efficient and bike-friendly route, the app will also provide information on points of interest as you ride," says company Business Advisor Paul Mayer. "And our pre-packaged, themed routes – designed by local cyclists – are the perfect way to explore a new city."
The app is available in cities worldwide. Furthermore, the company shares the data it collects via the app with research projects aimed at improving cycling in cities. Together with municipalities and companies, the Bike Citizens team designs, develops and promotes an array of tools to help cities promote urban biking. 
Thwarting thieves
Satsafe Technologies, also exhibiting at the Expo, is on a mission to develop innovative, global navigation satellite system (GNSS)-based products and services that provide safety and security benefits to the end-user. One such product is the SatsafeBike. The key innovation to this bike is the European Satellite Navigation Competition (ESNC) UK finalist's winning Geoblock technology. The multi-sensor technology, which was originally developed for use in cars, determines the physical characteristics of a vehicle in real time, including acceleration, braking and cornering. This data is then analysed by a back office system, which applies an algorithm to produce individual driving scores.
"We are applying this same concept to bikes, creating an Internet-of-Things-enabled smart bike that we call the SatsafeBike," says founder Stuart Millward. "Our aim is to have this technology embedded into bikes at manufacturer." According to Stuart, the technology has already been deployed on electric bikes for Transport for Greater Manchester and the company is in discussions with a UK electric bike manufacturer about adopting the technology for all of their bikes.
"What's really attractive about this technology for bike owners is its positioning capability," explains Millward. "If you're at work, for example, and your bike begins to move, the device will alert you of its position, enabling you to use the app to track and find your stolen bike."
Easy riding with GNSS
Turning to motorbikes, REALRIDER was on hand to talk about its motorcycle app that keeps riders safe and connected. The app lets motorcyclists ride with complete peace of mind knowing they are protected by the REALsafe feature – the app's 999-certified, built-in lifesaving crash detection technology linked to emergency services.
Also an ESNC finalist, Chief Commercial Officer Andrew Richardson describes the product as a social app for motorcyclists with a GNSS-enabled safety feature. "Here you can record routes, add points of interest, and connect and share this information with friends and other riders – it's all about sharing with a wider community," he says. "But the apps main feature is really its crash-detection feature."
According to Richardson, all too often a motorcyclist is riding by him or herself on open, remote roads. If they were to crash, be thrown from the bike and land unconscious, for all practical purposes they would be lost. Looking to the EU's eCall emergency service for inspiration, the question that Richardson and his team asked was "how do we let emergency medical services know where the rider is and what their condition is before they leave to go on the rescue?"
The app uses a complex process of GNSS positioning and geolocation to determine whether a crash emergency has occurred. "With REALRIDER, your information is stored in the UK emergency service system," explains Richardson. "If it detects a possible crash the app will send you a call to ask if you are ok. If you don't respond, then it will automatically send your downstream satellite data, medical and contact information from the app to the nearest ambulance and the ambulance to your location via the BT operated 999 service."
European space benefiting our everyday lives
The Space Solutions for Biking event and the European Space Expo – The Hague were held in conjunction with the 2016 European Space Solutions Conference, co-hosted by the European Commission and the European GNSS Agency (GSA), under the auspices of the Dutch Presidency of the Council of the EU. To date, over 900 000 European citizens from across Europe have visited the European Space Expo, learning how European space policy and space-based technologies benefit our everyday lives, support the European economy and create jobs.
Media note: This feature can be republished without charge provided the European GNSS Agency (GSA) is acknowledged as the source at the top or the bottom of the story. You must request permission before you use any of the photographs on the site. If you republish, we would be grateful if you could link back to the GSA website (http://www.gsa.europa.eu).