World Space Week, an international celebration of the contribution of science and technology to the betterment of the human condition, ends today, October 10. However, some of the associated events extend well beyond the week. One such event is the GSA Open Days, to be held on 16-17 November, during Czech Space Week.
Since the United Nations General Assembly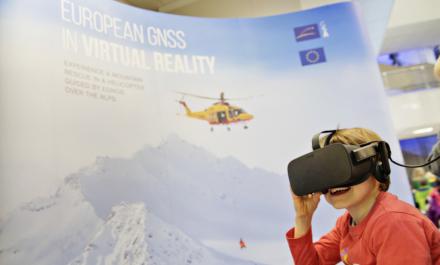 declared World Space Week in 1999, it has grown into the largest public space-related event on Earth, with more than 4,000 events in 82 countries celebrating the benefits of space in 2017.
The theme of this year's World Space Week is "Space Unites the World" and the Week is packed with space education and outreach events held by space agencies, aerospace companies, schools, planetaria, museums, and astronomy clubs around the world. Once such event is the European GNSS Agency's (GSA) Open Days, which is being organized this year as part of the activities of Czech Space Week 2018, on November 12-16.
Read this: 2018 GSA Open Days. Mark your calendar
On Friday 16 and Saturday 17 November, the GSA will throw open the doors of its Prague headquarters to the public for the fourth year in a row, offering a unique opportunity to get an insider's look at the European GNSS (Global Navigation Satellite System) services and the people behind them.
GSA Open Days 2018: From Launch to Services
The GSA Open Days will give you a chance to experience the journey of Galileo satellites from the rocket launch in Kourou, French Guiana, to the services used by citizens and business worldwide. This is your opportunity to learn more about what the European Union is doing in space, the crucial role of the GSA, and the impact of satellite navigation on our daily lives.
The programme includes exciting seminars and space workshops, competitions and quizzes, programmes for school visits, and other fun educational activities. Come visit us to see and follow Galileo satellites, take a selfie in space, try landing a plane with EGNOS or experience a Search and Rescue with the help of Galileo. There will also be opportunities to win great prizes!
If you would like to visit the GSA Open Days as a school, please fill in this registration form. A draft programme of the event can be found here.
Media note: This feature can be republished without charge provided the European GNSS Agency (GSA) is acknowledged as the source at the top or the bottom of the story. You must request permission before you use any of the photographs on the site. If you republish, we would be grateful if you could link back to the GSA website (http://www.gsa.europa.eu).