Space is in high demand in the Galileo Demo Centre, opened at the NAVIS Centre in Hanoi by the BELS+ project. The Demo Centre provides European companies with a venue to showcase their GNSS-based solutions to stakeholders from South East Asia, and BELS+ is offering vouchers to interested companies to support the installation of their products in the Centre. The call to apply is closing soon, so don't miss out!
BELS+ aims to develop GNSS markets for EU companies and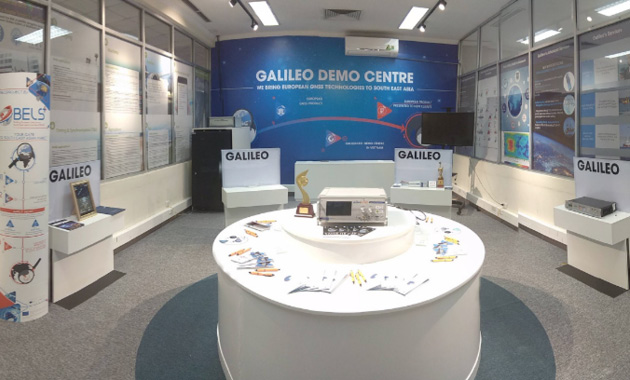 help EU GNSS applications gain a foothold in South East Asia. With this aim in mind, the project opened the Galileo Demo Centre at the NAVIS Centre in Hanoi, Vietnam, as a venue where European companies can showcase their GNSS-based solutions.
The Demo Centre offers companies the opportunity to establish business relations in the SEA region and provides a venue to promote their GNSS-based products and services as well as to find the right business partners and potential customers in the South East Asia region.
Read this: BELS Builds Bridges to Southeast Asia
Given these benefits, it is no surprise that demand for space in the Centre is high, and several European companies are already showcasing or preparing the presentation of their products and solutions in the Demo Centre. These include: Septentrio (Belgium), NSL and Spirent (UK), SpacEarth and SpaceExe (Italy), ANavS, navXperience, TeleOrbit and IFEN (Germany), marXact (the Netherlands), and Bluecover and TeroMovigo (Portugal).
What's on offer?
BELS+ has opened a call for companies interested in space in the Galileo Demo Centre. The project is offering interested companies vouchers to support the installation of their products. Successful applicants will receive up to EUR 2,500 to cover travel and accommodation expenses in Hanoi and up to EUR 3,000 to cover expenses connected with setting up their demos, such as shipping costs and import duties.
The call to apply for a voucher is closing soon, so don't miss out! For more information and to apply, click here.
About BELS+
BELS - Building European Links towards Southeast Asia - was set up in 2015 and extended, as BELS+, in 2018 to facilitate the breakthrough of EGNSS technology in the South East Asian (SEA) market. Funded under Horizon 2020, BELS+ conducts a range of coordinated activities to raise awareness and build capacities for the exploitation of EGNSS technologies in South East Asia.
And this: Exporting Galileo – developing EGNSS markets outside Europe
The BELS+ consortium brings together partners from Europe and South East Asia, including European companies with a presence in the region, as well as leading universities. Together, these partners concentrate on three core objectives:
Opening new markets to EU companies;
Increasing awareness of EGNSS technology through workshops;
Increasing the technical expertise of people in the region.
One of the project's core aims is to promote Galileo and demonstrate how it can benefit the region. This work is particularly important as the SEA region lacks its own satellite navigation capabilities and is therefore dependent on other national or regional systems.
For more information, visit the project portal.
Media note: This feature can be republished without charge provided the European GNSS Agency (GSA) is acknowledged as the source at the top or the bottom of the story. You must request permission before you use any of the photographs on the site. If you republish, we would be grateful if you could link back to the GSA website (http://www.gsa.europa.eu).