The last SAR/Galileo Initial Service Quarterly Performance Report of 2017 (from October to December) has been published in the Performance Reports section of the GSC web portal.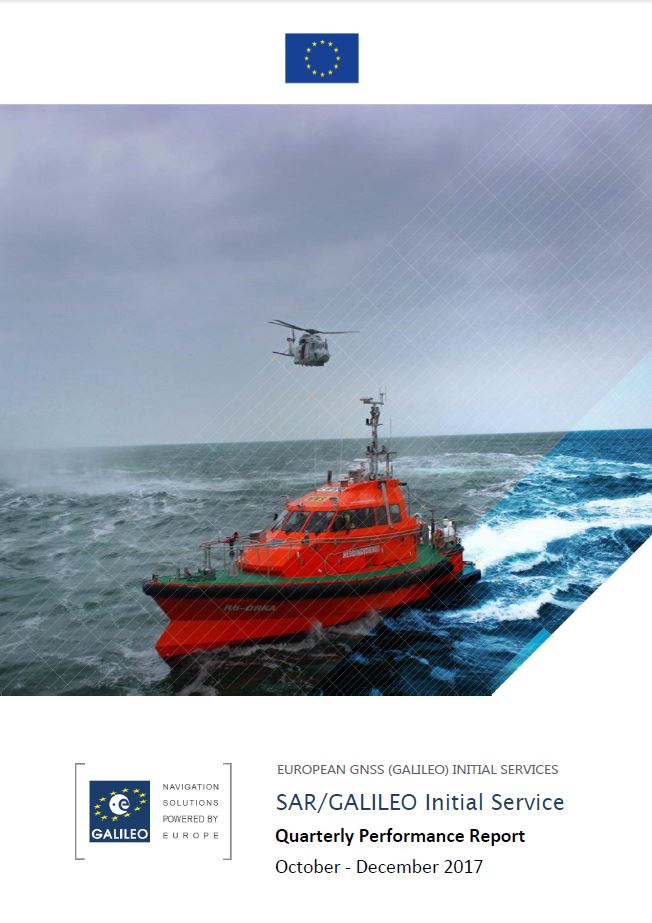 The fourth SAR/Galileo Initial Service Performance Report is available in the Electronic Library, providing the status of the Galileo constellation and the achieved performance over the reporting period (October, November and December 2017).

These quarterly reports provide the public with the latest information on the SAR/Galileo Initial Service measured performance statistics with respect to their Minimum Performance Levels (MPLs), as declared in the SAR/Galileo Initial Service - Service Definition Document (SAR - SDD), in particular, on parameters such as:
Detection performance;
Location performance;
Infrastructure availability performance;
Highlights from Q4 2017
As in the preceding three quarters of 2017, the measured SAR/Galileo Initial Service performance figures generally exceed the MPL targets by significant margins.

Some highlights from the Q4 performance report:
Detection ProbFourth Galileo IS OS Quarterly Performance Report availableability for each of the Reference Beacons (REFBE) was always above the Minimum Performance Level (which is 99%).
Both the single and multi-burst Location Probabilities for each REFBE were, in all cases, well above the MPLs (which are 75% and 98%, respectively).
SAR/Galileo Infrastructure Performance is measured by the availability of the Ground Segment, Space Segment and SAR Server. As an example of the Ground Segment availability, the MEOLUTs of Larnaca and Spitzbergen have achieved good values during the whole period (average availability of respectively 97.3% and 98.2% in "Nominal" mode).
For the most up-to-date information on the Galileo system and constellation, visit the European GNSS Service Centre (GSC) website, in particular, the Galileo constellation status section. For more details on Galileo performance and its Services, do not hesitate to contact the Galileo Help Desk.

Media note: This feature can be republished without charge provided the European GNSS Agency (GSA) is acknowledged as the source at the top or the bottom of the story. You must request permission before you use any of the photographs on the site. If you republish, we would be grateful if you could link back to the GSA website (http://www.gsa.europa.eu).