There is only one week left to enter for this year's European Satellite Navigation Competition (ESNC). Register your idea for an innovative and marketable European GNSS (EGNSS) application by July 31 for a chance to win great prizes!
Also known as the 'Galileo Masters', the ESNC awards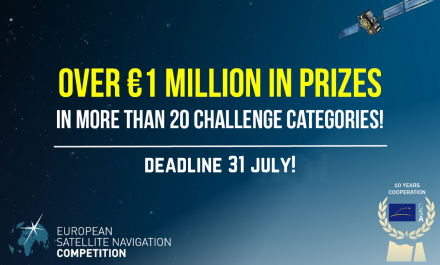 applications, services and new ideas that use Galileo GNSS data to respond to important challenges faced by business and society. In this year's competition, various institutions and regional partners are set to award prizes worth a total of over EUR 1 million within more than 20 challenge categories. If this is not enough to tempt you, one Xiaomi Mi 8 will be raffled between all complete submissions received by the deadline.
Proud partner
The European GNSS Agency (GSA) is proud once again to be a part of this year's event – the 10th consecutive year that the GSA has been a main partner in the competition and awarded a Special Topic prize.
This year, the GSA will award three prizes addressing the topic 'When and Where? – Exact timing and positioning matters', with special consideration given to proposals that leverage EGNSS differentiators, such as:
Multiple frequencies E1, E5 and E6

Galileo-specific signal modulation, e.g. AltBOC

Galileo Search and Rescue Service

High-precision and authentication services that will be provided by Galileo, i.e. within the Commercial Service and within the Open Service authentication (OS NMA)
Cash prizes of €3000, €5000 and €7000 will be awarded to the top three proposals. In addition, the first prize winner will benefit from extensive promotion through GSA marketing channels and at relevant industry events and, if eligible, will receive tailored EGNSS Accelerator business support worth €62,000.
New evaluation procedure
The evaluation process has changed this year and the winners will have have to pitch their idea to a panel of experts, via live streaming, at an evaluation meeting on September 25-26. Every winner will get 5 minutes for their presentation and another 5-10 minutes for questions. At the end of the second day, the experts will select the overall winner in a closed ballot. The winner will be announced at an official Awards Ceremony at European Space Week, on 4 December in Marseille.
Together with cash prizes, challenge winners will receive access to an international network of leading GNSS organisations, a crowd investment platform, and business development support. In addition, the ESNC is complemented by the E-GNSS Accelerator, which helps transform great ideas into commercially viable solutions through a tailored business coaching service. All winners of the ESNC 2018 will gain access to the E-GNSS Accelerator, if eligible.
For more details on this year's challenges, prizes, and partners, please see www.esnc.eu. To participate, click here.
Media note: This feature can be republished without charge provided the European GNSS Agency (GSA) is acknowledged as the source at the top or the bottom of the story. You must request permission before you use any of the photographs on the site. If you republish, we would be grateful if you could link back to the GSA website (http://www.gsa.europa.eu).