The European Space Expo opened next to the Vienna ITS World Congress, showcasing satellite and space applications at the premier global transport technology event.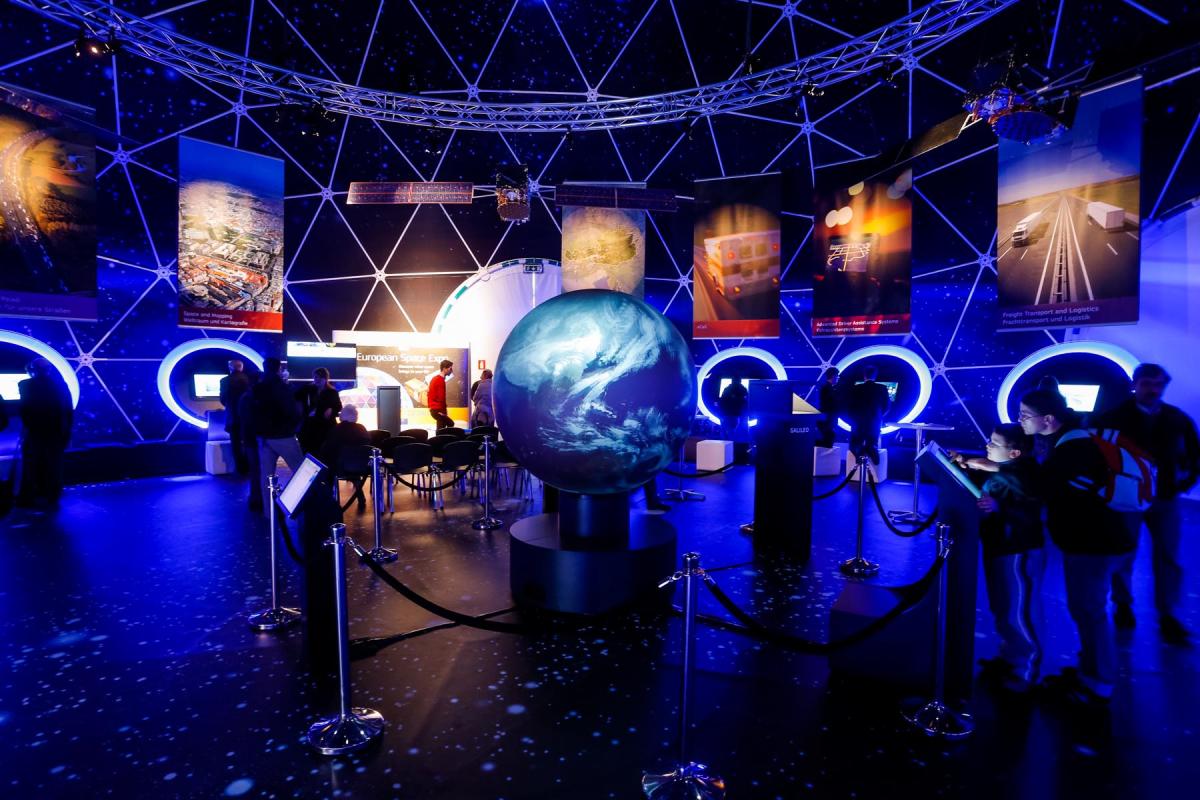 As delegates gathered on October 22 to debate and discuss intelligent transport systems at the Vienna ITS, they were greeted by the European Space Expo, the travelling exhibition of how space technologies are impacting everyday life.
The Space Expo was perfectly positioned: satellite applications are particularly useful in transport and mobility, from vehicle navigation systems and virtual tolling booths to accident prevention mechanisms and parking space locators. Outside the Vienna Messeplatz, where business leaders, developers and officials met for the congress, they were able to drop into the Expo dome to see, touch and experience the wide range of innovative satellite technologies and services that space offers to them.
Satellites as ITS enablers
The Space Expo was formally opened by Carlo des Dorides, the Executive Director of the European GNSS Agency (GSA), in front of a crowd of 80 top officials, including around 30 transport ministers from Europe and beyond.
Des Dorides said that transport is increasingly using Galileo, the flagship global navigation system being deployed by Europe, and EGNOS, Europe's GPS augmentation system. "They are key contributors to a global, continuous and guaranteed timing and positioning service," he said.
The high quality timing and positioning provided by satellite is a key enabler for many ITS applications. "Road transport and ITS are among the largest downstream markets for satellite navigation systems, both in terms of volume and public utility," des Dorides said.
Alongside GPS and other satellite navigation systems, Galileo will provide significantly enhanced positioning availability and accuracy for road vehicles. It also offers a more resilient position solution for aviation, rail and maritime.
An array of transportinnovative applications for transport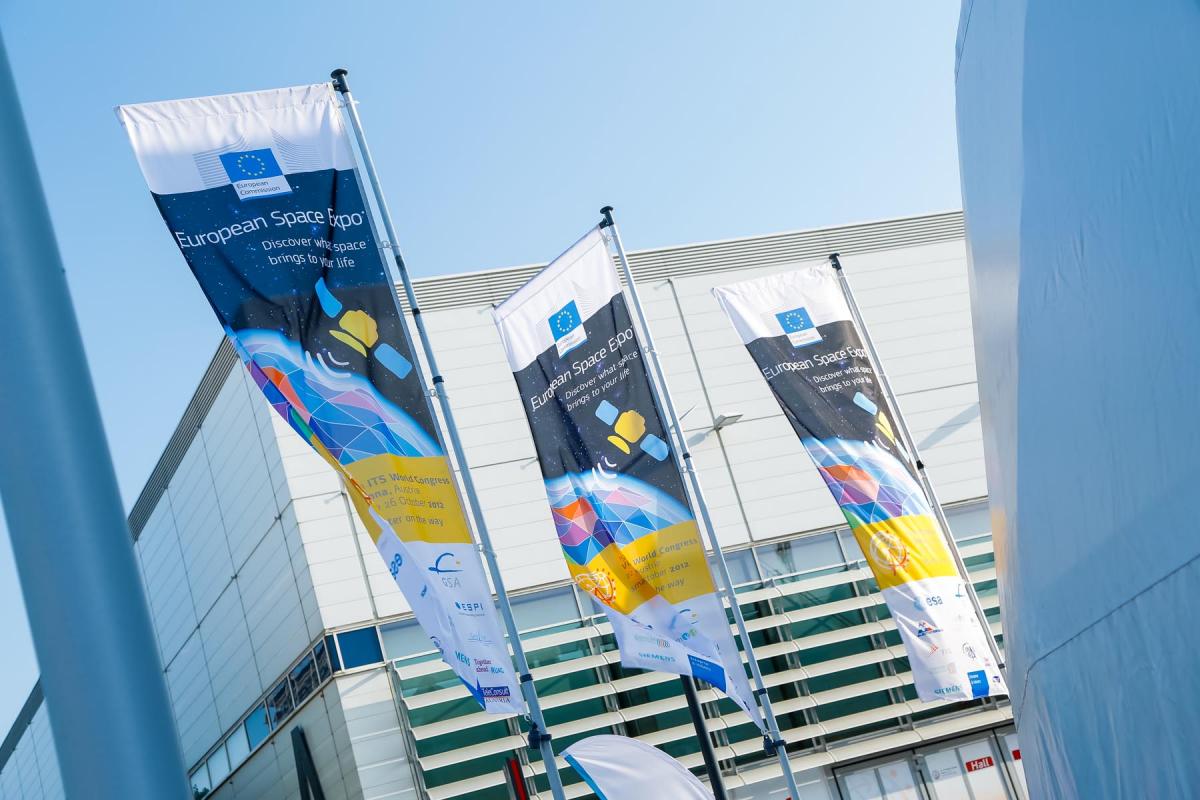 The Space Expo displayeds some of the most important contributions of EGNOS and Galileo to empower ITS services. Around the dome wereare kiosks focusing on applications and benefits in a certain domain, such as emergency call, advanced driver assistance systems, road pricing, and tracking of dangerous goods transport.
In the centre of the Space Expo wasis the 'Theatre Earth' , which displayeds the launches and orbits of the current and future Galileo constellation in real time. And hanging from the dome ceiling are were four models, in one-third scale, of a Galileo satellite. There wasis also a model of the Sentinel satellite used for Global Monitoring for Environment and Security (GMES), the European Earth observation programme, whose services will be more and more used to evaluate impact of transport policies and to optimise maritime and other transport modes.
In addition, the Space Expo displays an array of technologies made in Austria, reflecting the important role Austrian companies and research institutes play in the space sector. And, like other Space Expos, the Viennese edition features a programme of interactive sessions and events, for both the delegates of the congress and the general public, on issues like how satellite services can help in crisis situations, how space applications can help fight disease, and how Galileo's independence bolsters security in Europe.
In addition, the Space Expo was the venue to several interesting sessions organized by sponsors and companies which are supporting Galileo adoption in the ITS market innovation. ERTICO presented the prospecting opportunities that are arising in Urban Mobility thanks to the innovative coming from satellite navigation. TeleConsult Austria and EFKON presented reliable positioning solutions for road charging applications and under adverse circumstances, respectively.
Special mention should be made to the R&D elevator pitch session presenting results of projects from 14 R&D projects funded by the 7th. Framework Programme which are providing Galileo/EGNOS benefits to the ITS and road transportation domains. Speakers presented ideas, innovations or problems detected aiming to network with other experts and colleagues. The session was very dynamic, and the audience discovered new commercial solutions that will be launched to the market in some years: a driverless GNSS based taxi application; new Galileo based systems for the reduction of CO2 emissions; and a GNSS technology to support the identification of free parking slots...
The Space Expo has already been seen by 55,000 visitors during its stops in Copenhagen, Toulouse, Helsinki and Brussels. It has been gaining momentum and interest as it tours, with the most recent visits, Helsinki and Brussels, gathering respectively 23,000 and 16,250 visitors.
There are 30,000 applications currently in use that rely on space technologies, helping, for instance, to optimize transport, boost efficiency in agriculture and fisheries, protect the environment and improve security.
The market for global satellite navigation applications is forecast to reach €240 billion by 2020, with about 7% of gross domestic product - equal to €800 million in Europe - reliant on satellite navigation services. Studies show that Galileo could contribute to Europe up to €90 billion into the European socio-economic benefitseconomy to Europe duringin its first 20 years.
The Space Expo has already been seen by 58,000 visitors during its stops in Copenhagen, Toulouse, Helsinki, Brussels and Vienna. The European Space Expo in Vienna runs until October 26. It will then travels next to Larnaca, Cyprus (at the November 10-16 Second FP7 Space Conference) and London (December 1-6, coinciding with the December 3-5 'European Space Solutions' conference). A further 12 dates around Europe are planned for 2013.
Media note: This feature can be republished without charge provided the European GNSS Agency (GSA) is acknowledged as the source at the top or the bottom of the story. You must request permission before you use any of the photographs on the site. If you do republish, we would be grateful if you could link back to the GSA website.
More information:
http://ec.europa.eu/eu-space-expo