Developers use the SpaceTech2017 Hackathon to demonstrate the many ways that LBS applications can benefit users of every kind.
GNSS-enabled location-based services comprise a multitude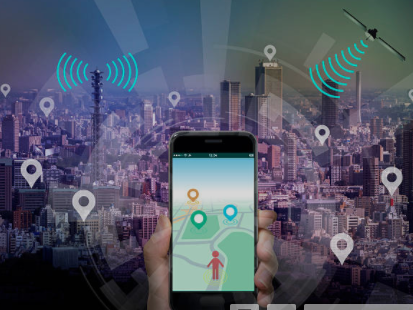 of applications tailor-made to satisfy different uses and needs. These applications are supported by a range of devices, including smartphones and tablets, personal tracking devices, wearables, digital cameras and portable computers. The uses of these LBS applications are infinite and include everything from navigation to mapping, geo-marketing, advertising, safety response, sports, gaming, augmented reality, social networking and mobile health – to name only a few.
The full spectrum of LBS applications was on display at the recent SpaceTech2017 Hackathon, held in Tartu, Estonia. Organised by Estonian event planning company Garage48 and with the support of the GSA and the European Space Agency (ESA), the hackathon brought together 122 developers, engineers, data scientists, designers and marketers from 23 different countries. Teams were challenged with coming up with exciting ideas using different elements from different streams to create location-based solutions that integrated GNSS – all within just 48 hours.
A travel journal for the digital age
At the end of the 48-hour hackathon, a number of impressive applications were presented. One of those was SIGHTVEL, an intuitive application that allows users to create 'memory maps' of their travels. As one travels, the app uses the user's location to geotag the images and notes that a traveller takes. These are then added to the route map. The result is a ready-made travel-log that can be easily shared with family and friends, who can then follow along with your travels in real-time.
"My grandfather was a truck driver, and I remember him using a little atlas book to record each of the places he went," says project leader Papuna Janashvili. "It was this memory that inspired me to create an atlas book for the digital age."
A lifeline for the elderly
LIFELINE, another application developed during the hackathon, functions as an intelligent lifestyle assistance and safety monitoring system for the elderly and disabled. It features mobility-as-a-service (MaaS) that employs advanced GNSS capabilities and Earth Observation data.
"LIFELINE uses Copernicus data, for example, to predict when environmental conditions could be hazardous to an older person's health," explains project leader Jeffrey Wallace. Using such devices as Amazon's Alexis, the application then provides audio suggestions, such as: "It will be very hot this afternoon, would you like to go to the shopping centre to relax and visit your friends?" Based on the user's response, the application then schedules a bus or other mode of transport to pick the user up.
The full spectrum
These are just a couple of the many LBS applications that came out of the hackathon. Others included the TeamONGrid application, which uses Military Grid Reference System (MGRS) maps for tracking military endurance competitions. Meanwhile, the Run Me If You Can game is a fun social fitness app that lets runners interact and compete in real time with other runners from around the world.
There was even an app idea for beer lovers. SpaceBeer is a high-altitude balloon that follows the user who is, for example, hiking down below. When the user gets thirsty, they simply click a button on their smartphone and the balloon releases a beer that is delivered via parachute. Needless to say, this app is more of a concept than a reality, but iDoBalloon, another balloon-based application, is the real deal. At the hackathon, the team built an educational DIY high altitude balloon that can be sent to the stratosphere, where it provides science students with a unique point of view and a one-of-a-kind learning opportunity.
So whether it's for fun or to provide a lifesaving service, as we saw during the SpaceTech2017 Hackathon, if there's not an app for it yet, chances are, there soon will be. The next opportunity to test your GNSS app-dev skills will be at ActinSpace 2018.
Media note: This feature can be republished without charge provided the European GNSS Agency (GSA) is acknowledged as the source at the top or the bottom of the story. You must request permission before you use any of the photographs on the site. If you republish, we would be grateful if you could link back to the GSA website (http://www.gsa.europa.eu).